Agra is also called the city of Love because the structure symbolizes one of the greatest love stories of medieval India, Taj Mahal, stands tall here. Agra is a city on the banks of the river Yamuna in Uttar Pradesh, India. Agra is a famous tourist spot and is best known for Taj Mahal designated a UNSECO World Heritage site in 1983. It is a sneak peek into the architectural history and legacy of Mughal Empire.
Getting to and from Agra
Agra is well connected to Delhi, Jaipur, Lucknow, Varanasi and many other Indian cities.
Train: Agra is very easy to reach by train – but be aware that Agra has several train stations so do check which yours comes into and leaves from. Agra Cantt (Cantonment) is the largest with the majority of trains arriving into and out of. To or from Delhi, the best train to get is the 12050 / 12049 Gatimaan Express – currently one of India's fastest trains – which runs between Hazrat Nizamuddin in South Delhi to Agra Cantonment.
Tourist places in and around Agra: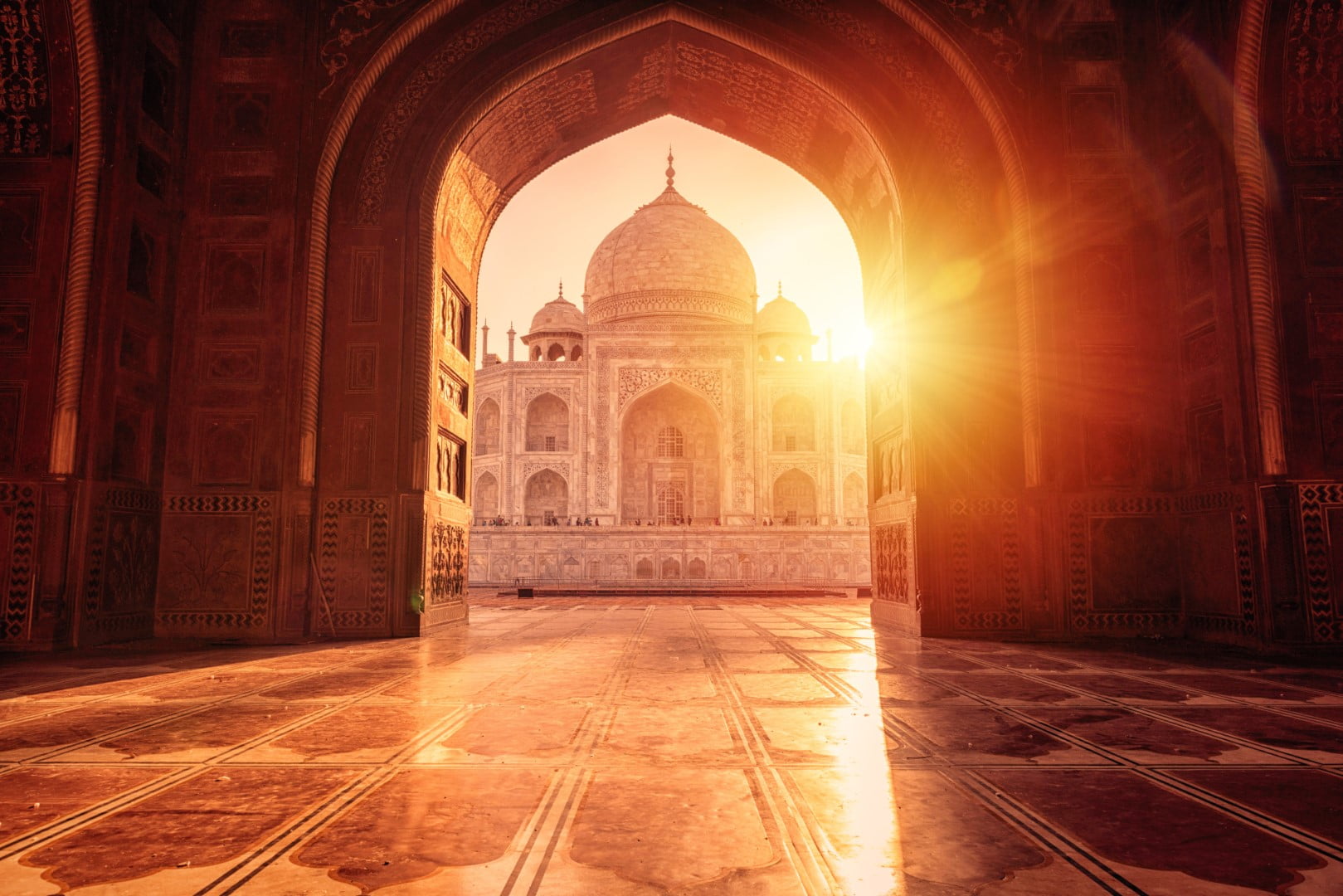 Taj Mahal
Taj Mahal or 'Icon of Love' is also one of the Seven Wonders of the World. The Taj Mahal is considered to be the world's best example of Mughal architecture. The Mughal emperor Shah Jahan built it in the memory of his favorite wife Mumtaz Mahal. It also houses the tomb of Shah Jahan himself. Made of white marble in 17th century, Taj Mahal is one of the most beautiful monuments in the world. Taj Mahal can be accessed through three gates. Over 20,000 people from India and nearby countries worked on this striking building. Specialist were brought form far away as Europe who produced the beautiful marble screens and marble inlay which is made of semi-precious stones. Taj Mahal is considered to be the greatest architectural achievement in the whole range of Indo Islamic architecture. The Taj Mahal was designated as a UNSECO site in 1983 for being "the jewel of Muslim art in India and one of the universally admired masterpieces of the world's heritage". Taj Mahal stands as a depiction of love which Shah Jahan had for his wife and was built in memory after her untimely death.
Facts of Taj Mahal:
Taj Mahal is named after Shah Jahan's Favourite wife- Mumtaz Mahal.
Precious stones were imported from outside India.
Taj Mahal appears in varying shapes throughout the day.
There was almost the Black Mahal as well.
Taj Mahal is one of the Seven Wonders of the World.
It has Islamic calligraphy inscriptions all over.
The pillars were constructed to fall outwards in case of collapse to prevent them from falling on the tomb.
Nearly 8 million visitors come every year.
Open:
Every day except Friday.
Timings:
Morning 6 am to 6:30 pm everyday
Night time views
8:30pm to 12:30 am ( 5 days a month, full moon night two days before full moon and two days after full moon).
Entry fee:
Indian Rs 50
Foreigners: Rs 1300
Best time to visit:
Best time to visit Agra is from October to March when the weather is favorable.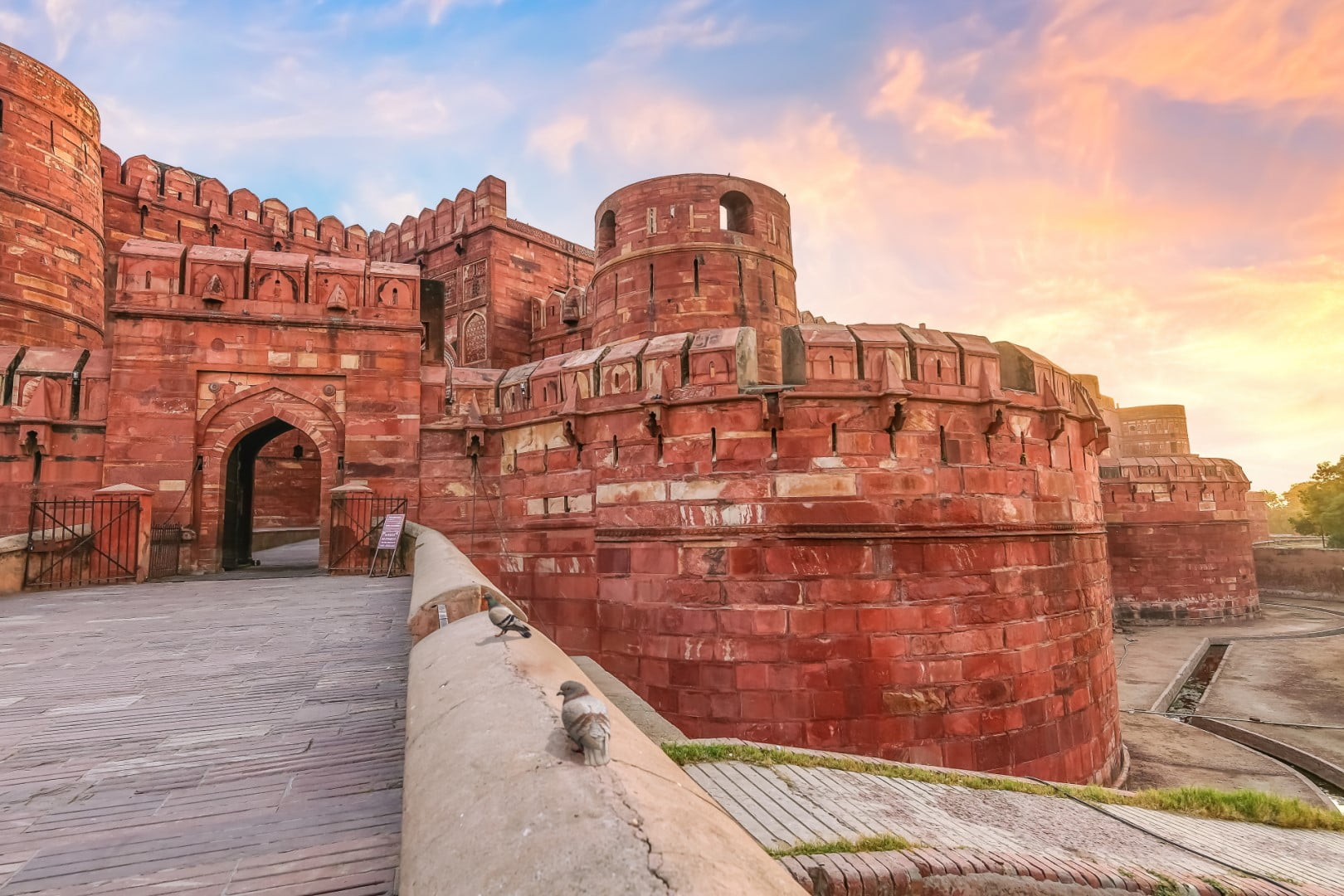 Agra Fort: Red fort
Agra fort also known as Red Fort was built by the Mughal Emperor Akbar in 1565. It was served as the main residence of Mughals until 1638, when the capital was shifted from Agra to Delhi. It is a UNSECO World Heritage site. The fort is described as wall city. The fort contains splendid palaces both in red sandstone and white marble built by two generations of prolific builders, Akbar, Jahangir and later Shahjahan. It contains the Pearl Mosque (Moti Masjid) constructed of white marble, and a palace, the Jahangir Mahal.
Monuments within the Fort:
Jahangiri Mahal:
The Palace was mainly used by Rajput wives of Akbar. The palace gateways leads to an interior courtyard surrounded by grand halls covered with profuse carvings on stone, heavily fashioned brackets, piers and crossbeams. It was one of the most important buildings of Akbari period in Agra Fort.
Khas Mahal:
It was built in 1636 and stands on a terrace in between River Jamuna and formal garden. There are two pavilions on either side of the Khas Mahal with bangle roofs a design resembling the curved thatched roofed huts of Bengal.
Time: Open from sunrise to sunset.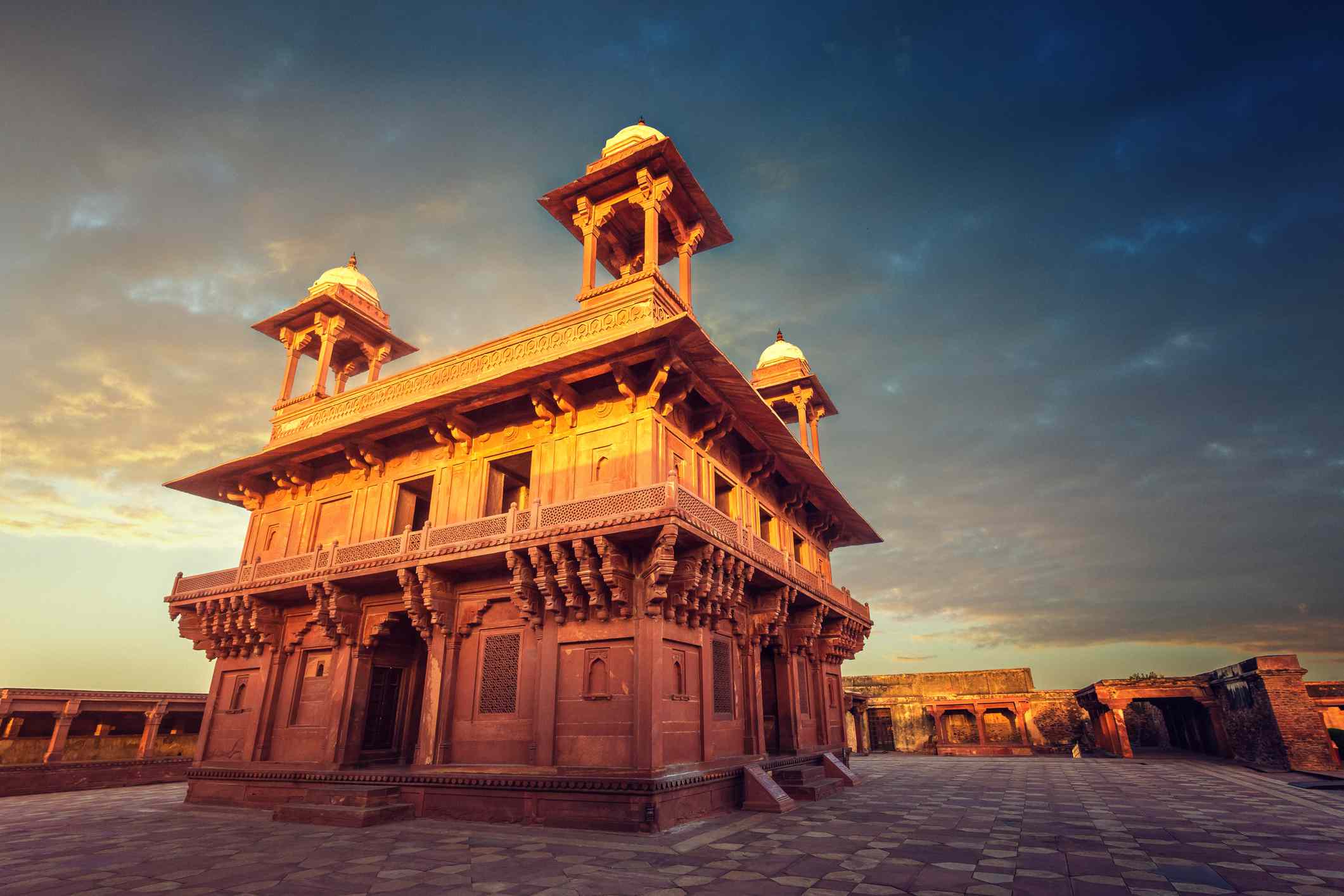 Fatehpur Sikri:
Located at the distance of 40 Km from Agra, Fatehpur Sikri is a small town in Agra and a famous tourist destination. It was built by Mughal emperor Akbar in 1571. Now a UNSECO world heritage site, it is home to Jodha Bai's palace, Jama Mosque, Buland Darwaza, Panch Mahal and Tomb of Salim Chisti. The magnificence and uniqueness offers a fine example of the emperor's architectural finesse. Akbar tolerant religious views and interest in literature and fine arts gave the building Fatehpur Sikri charismatic blend of Islamic and Hindu elements in their style and design.

Entry fee:
Indian Rs 50
Foreigners: Rs 550
Best time to visit October to March
Open: Every day from 6 am to 6 pm
Monuments within the Fatehpur Sikri: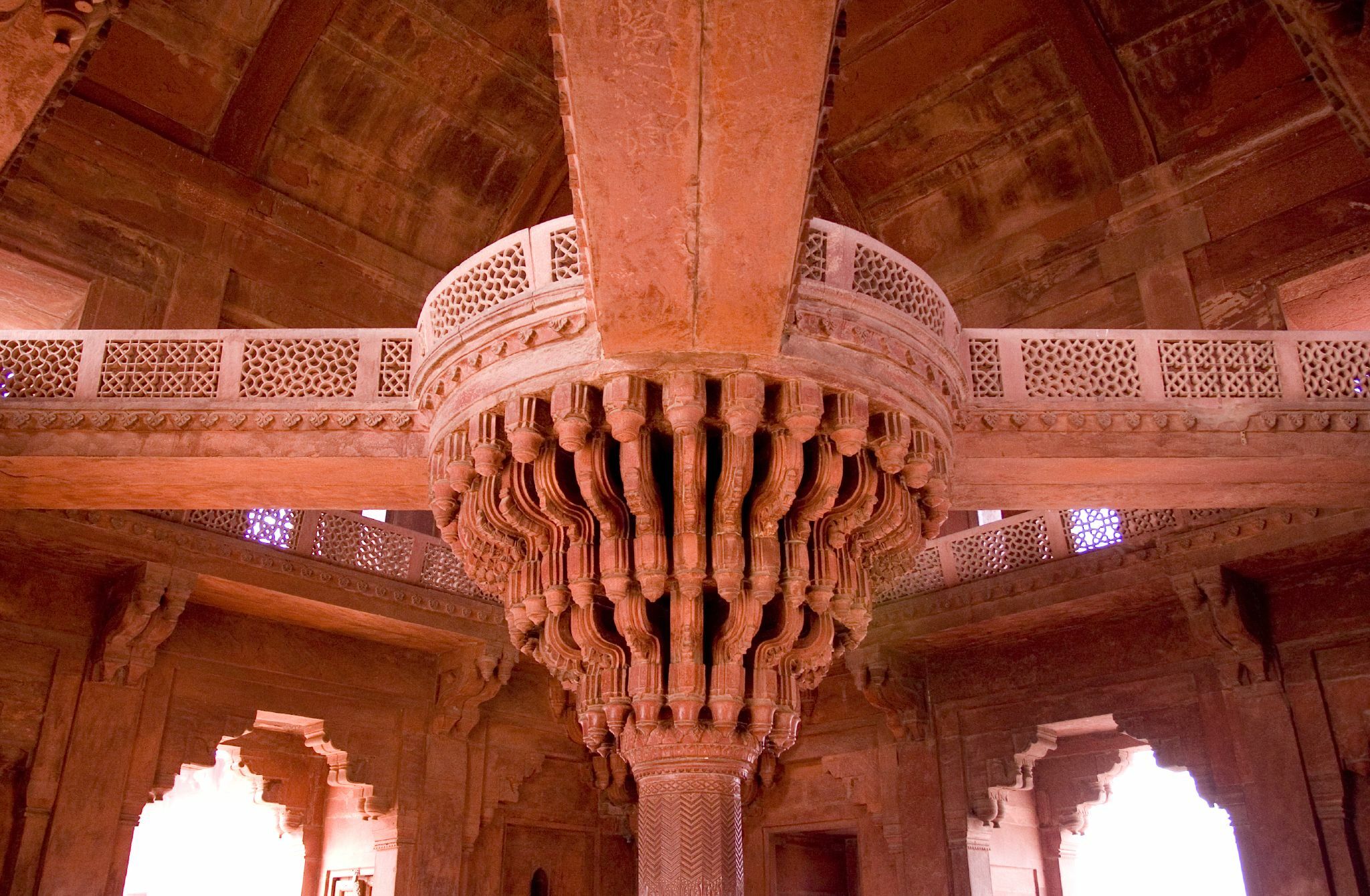 Diwan-I Khas :
Built in Persian style, this building was the hall of private audience. Only the Royals assembled here to discuss private affairs. It has a roof with four chattris. Floral and geometrical designs increase the beauty of the base and the shaft. Furthermore, its thirty six meandering paths act as a support to Akbar's platform. These are connected to every corner of the building on the first floor by four stone walkways.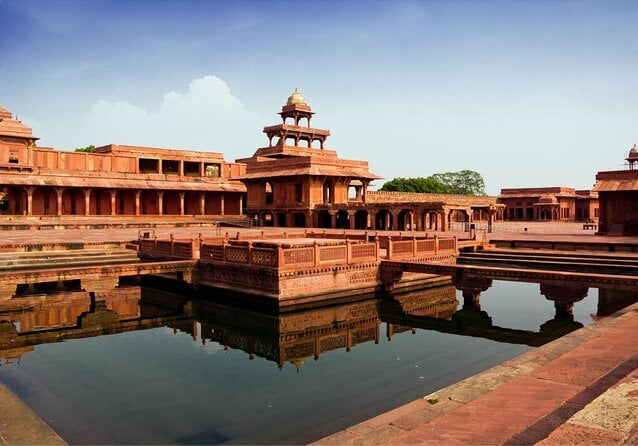 Diwan-I-Aam :
Hall of public audience, it was meant to hold meetings and gatherings. This place was used to hear public grievances and give justice by the Emperor. Standing on 49 pillars the Diwan-i-aam consist of Jharokha typw chamber which is also known as Takht-I-Murassa. This place has beautiful decorations all over its pillars and walls. There is a jail screen on either sides separated the ladies attending the court.
Palace of Jodha Bai
Palace of Jodha Bai was one of the most beautiful building in the royal palace. The spacious palace was assured of privacy and security by high walls and a 9 meter guarded gate. The architecture is blend of styles with Hindu columns and Muslim cupolas.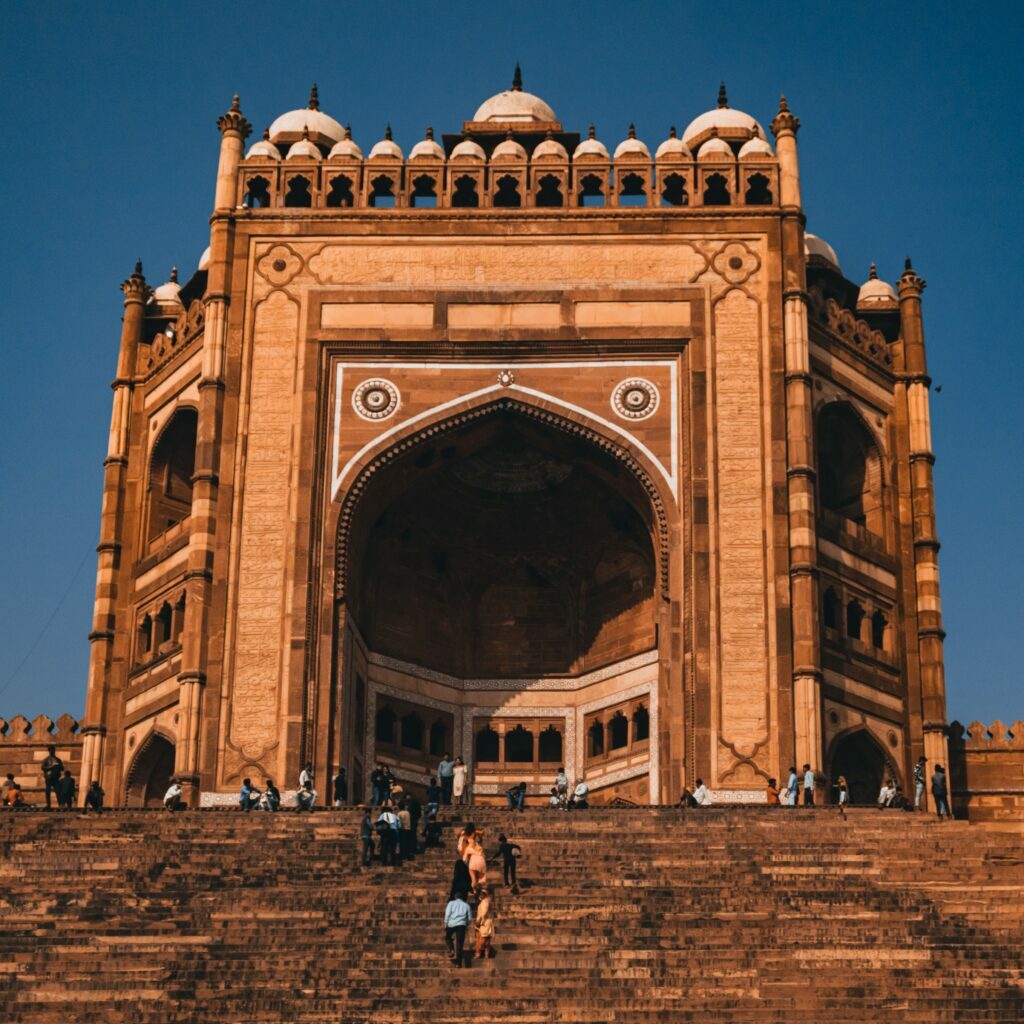 Buland Darwaza:
Gate of Magnificence, the Buland Darwaza is a symbol of Akbar's victory over Gujrat. It is the grand door that leads to Fatehpur Sikri from Agra. It took 12 years to complete the Buland Darwaza, it is made up of red sandstone and decorated with white and black marbles and it is 50 meters from the ground. The Darwaza can be approached from outside by a 13 meter flight of steps which adds to its grandeur.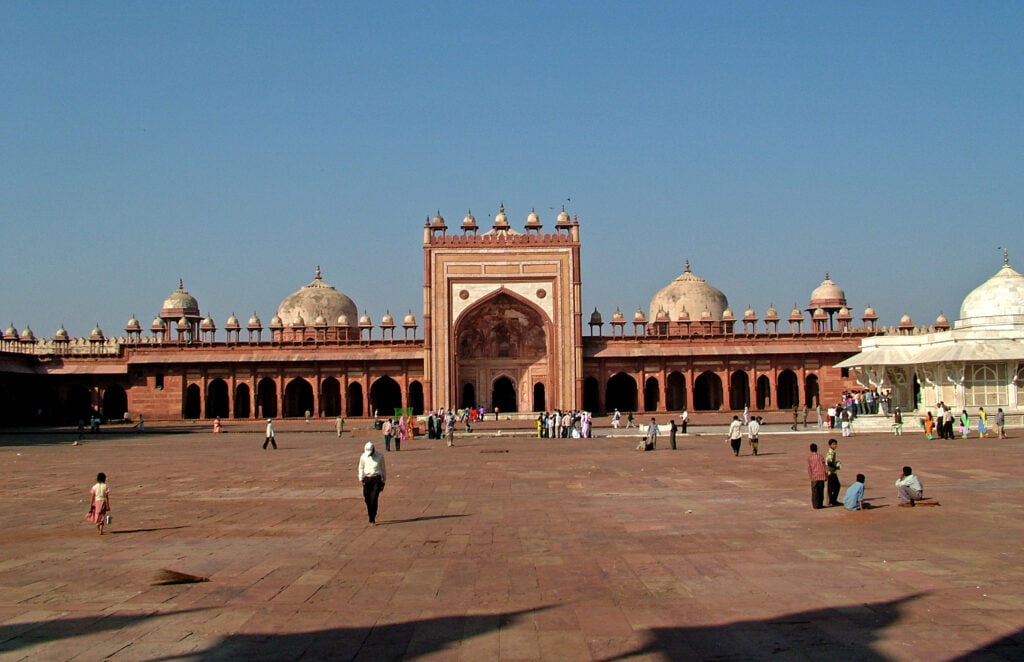 Jama Masjid ( Friday Mosque)
One of the largest mosques in India, the Jama Masjid was built in 1571. It is a World Heritage site now. It is also known as Friday mosque and it is the most visited place in Agra. Devotees consider it as a pilgrimage destination. It consists of single dome with two colonnaded halls on each side. Inside there is a vast congregational court The mosque is a transition in Islamic Architecture mixed with that of Persian style.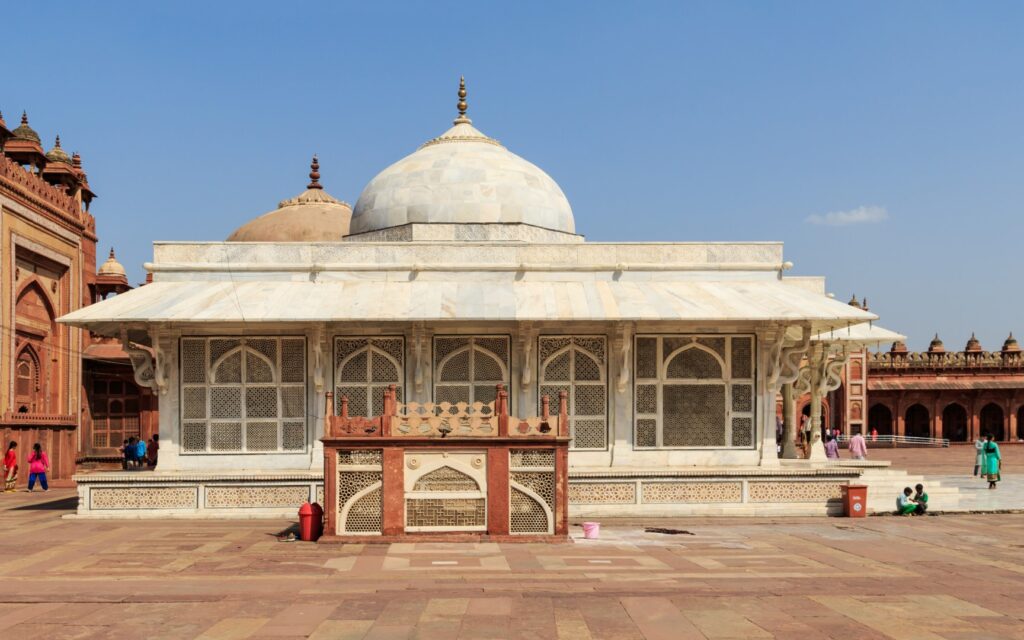 Tomb of Salim Chisti
The tomb of Salim Chisti is framed as one of the finest examples of Mughal architecture in India, built in 1580.The main building of this tomb is enclosed by marble screens from all side. The door of the main chamber is carved beautifully with patters and inscriptions from the Quran and the marble made floor has multicolored stones laid over it. The inner chamber of the tomb consist of a wooden canopy where inlays the mosaic of the mother of pearl. Devotees from all over the world visit the tomb with the hope of fulfillment of their wishes. People tie threads over the marble screens as a reminder of their aspirations to Salim Chisti.
Location: Agra
India
Population: 1430055
1004

hPa
24

%
46

%
4

m/s
291

deg
Must Know Before You Visit Agra
Stay longer than a day.
Pre-book your Agra accommodation.
Negotiate with rickshaw drivers.
Check the weather and dress accordingly
Ignore people who approach.
Agra is not the best place for souvenir shopping
Do enjoy the amazing local food.
Factor in some down time.
Buy your monument tickets in advance, online.
When is the Best Time to Visit Agra?
October – March is the best time weather-wise. December and January are the coolest months, but also attract the most crowds, so times like late October and late February are a great idea. Whenever you visit, try to avoid weekends if you can.
What should I wear as a Female Traveller to Agra?
Agra is located in one of the more conservative areas of India, so I recommend covering your legs down to at least your knees, shoulders and avoid any strappy, low cut revealing clothes. Leave the shorts in your bag for Goa. Maxi dresses (no big slits) are a good option, as are maxi skirts with a t-shirt or top (plus they'll look good in your photos). Scarves are super-useful for covering up when need be.
What do I need to know about visiting the Taj Mahal?
The Taj Mahal is open daily except Fridays, and tickets need to be bought in advance, online, using the Architectural Survey of India payment portal (link above). At time of writing (April 2022), the rate for foreign visitors is 2500 rupees. There are 3 entrances (west, south and east), with the most useful depending on where you are coming from (see above). The best time to visit the Taj is at sunrise, for beautiful light and fewer crowds. Separate pricing applies for visiting the Taj during the Full Moon and days surrounding it.