Spiti Valley- Little Tibet
Spiti Valley- Little Tibet
We are sure you have heard about Spiti a lot of times and from a lot of sources. After all is a cold mountain desert, Spiti is for travellers who like to drift away from the tourist trails. It's villages remain remotely tucked away in the lap of the mighty Himalayan range of Himachal Pradesh and it is needless to say that you can hike along Snow Leopard and Himalayan Wolf habitats, visit monasteries dating back over a 1000+ years. Here you can witness a fascinating culture and cuisine different from the rest of India, and meet the kindest of people who live the harshest of lives. This is a world of beauty and happiness.
Covered with Himalayas from all sides, Spiti Valley is located in Himachal Pradesh at an altitude of 12,500 feet above the sea level and gets just around 250 days of sunshine in a year, making it one if the coldest places in the country.
The term Spiti means 'The middle Land', as Spiti separates India from Tibet. Long winding roads and valleys that present unforgettable glimpses of cold desert and snow crowned mountain welcomes you when you step in Spiti Valley. Spiti is home to several monasteries.
There are many places to visit in Spiti Valley, few of these are Komic Village, Langza village, Lhalung Monastery, Tabo Monastery is one of the oldest monasteries in the world and a favorite of Dalai Lama. Spiti is also home to many Gaddi sheep and goat herders (nomadic tribe of Himachal) who come to this valley in summer for grazing their animals from the surrounding villages.
In past few years tourism has caught up fast in the valley that stayed in hides for so long. It is famous for its natural beauty and cultural heritage. Tabo monastery is one of the main attractions in the Spiti valley. The monasteries in Spiti are renowned for spectacular murals, ancient temples and several stupas.
Highlight:
Spiti Valley is a snow laden barren desert with breathtaking beauty.
Several villages in Spiti Valley offer a captivating and exciting trek trails with mesmerizing views.
Yak and horse safaris are the most popular and fun ways to explore the valley. 
Bara Shigri is the largest glacier located in the state of Himachal Pradesh.
Tabo Monastery was built in 996 AD and is more than 1000 years old.
Tabo Monastery is referred to as the Ajanta of Himalayas and is also declared as a World Heritage Site by UNESCO.
Key monastery is the highest altitude monastery in India at 4166 meters and is the second highest in the world.
Tourist from outside India need inner line permits to enter Spiti through Kinnaur.
Dalai Lama has expressed his desire to retire to Tabo, since he maintains that the Tabo monastery is one of the holiest.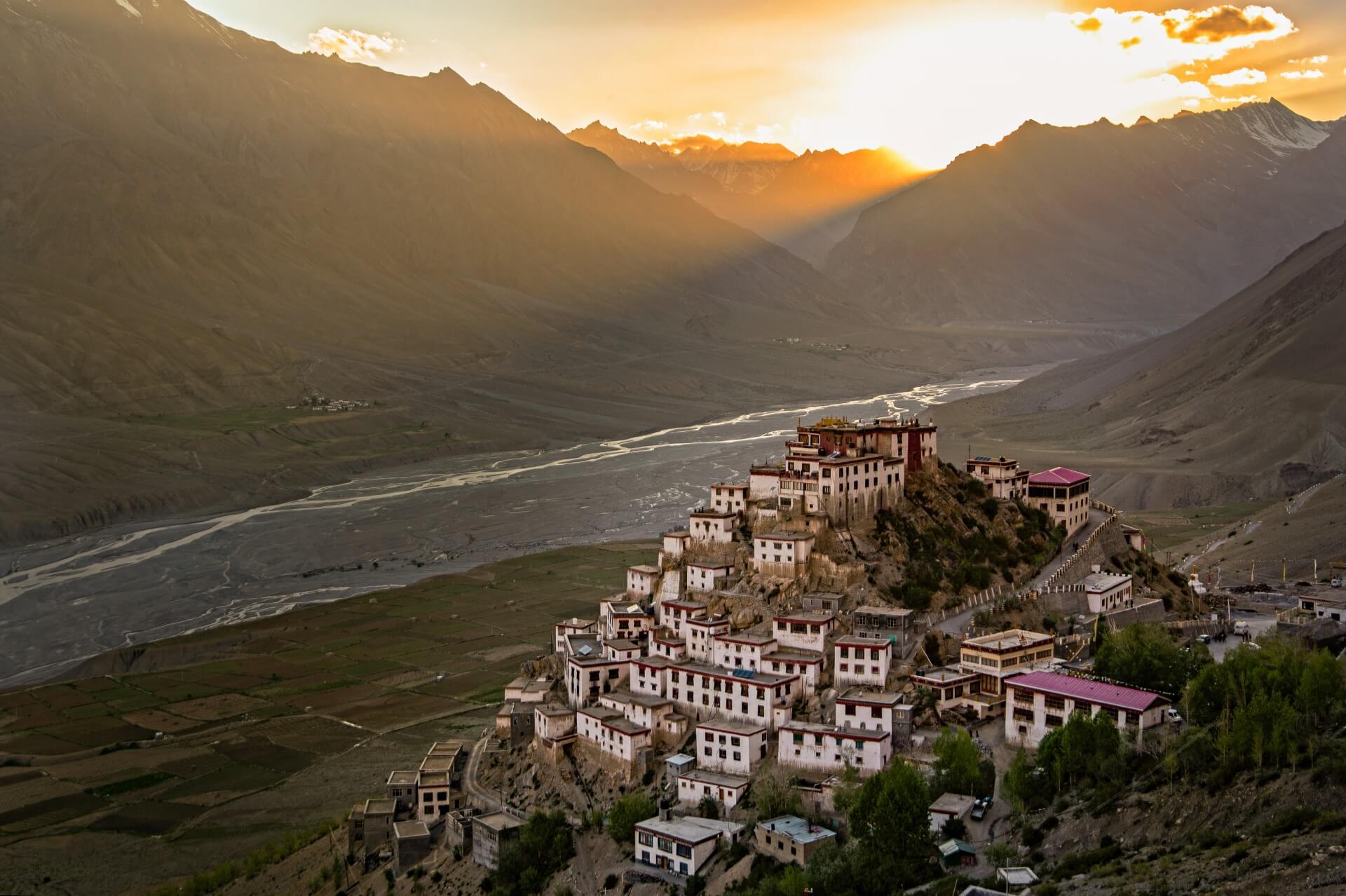 Key Monastery
Key Monastery- Spiritual Gateway: also known as key Gompa is a beautiful Tibetan monastery perched at the altitude of 4112 meters above sea level in Kaza region. This monastery is not only the biggest but the oldest one around. The Key Gompa is encircled by picturesque mountains and soothing valleys.

The fort like structure of the monastery bears resemblances to Chinese theme and comprises of a striking assembly hall and fascinating Tengyur which is richly adorned with exquisite murals and paintings. Witness an astounding dance of the Lamas, accompanied with musical instruments such as pipes and horns.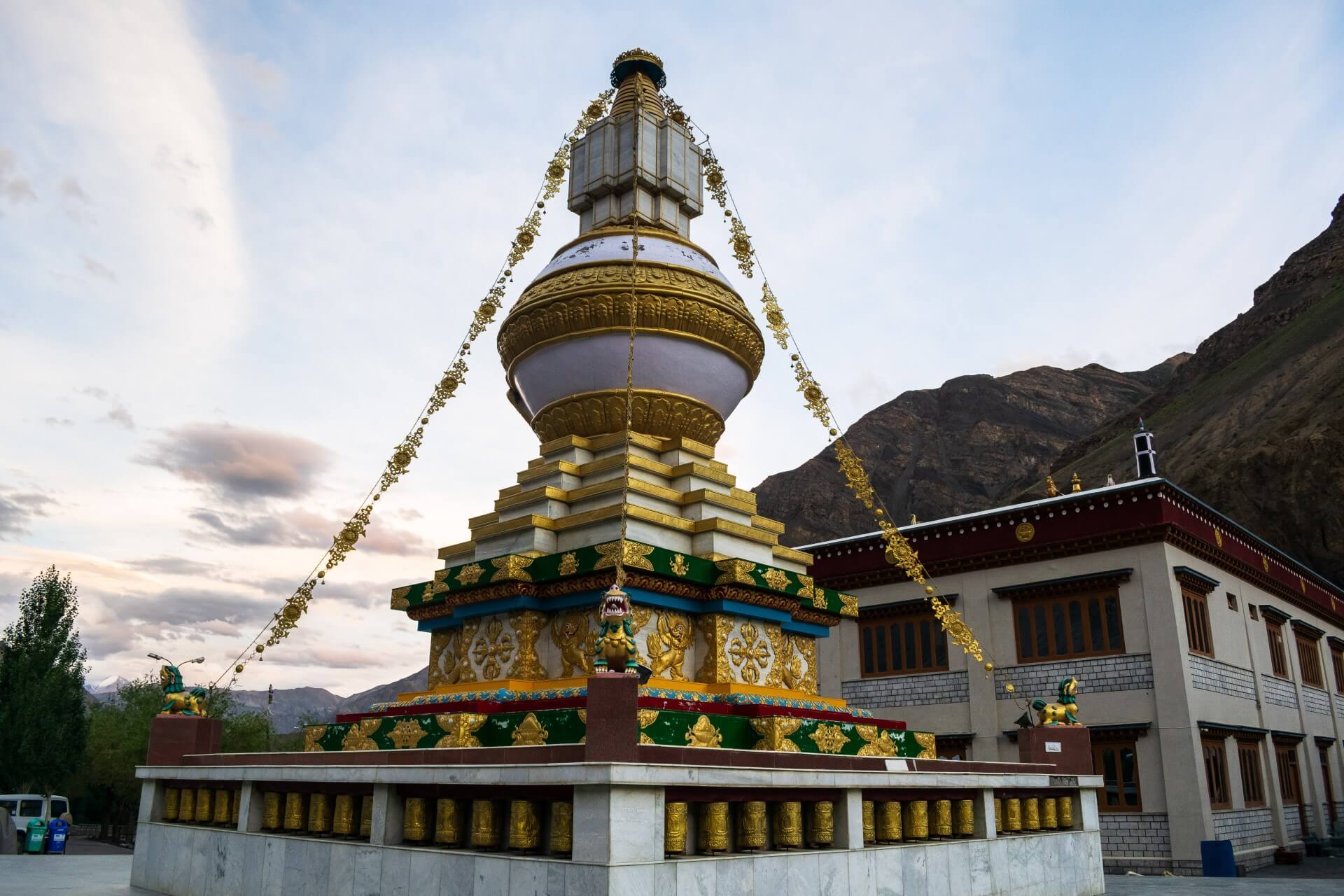 Tabo Monastery- Ajanta of the Himalyas
It is we ll know for its awesome paintings, Tabo monastery is one of the ancient places in the Spiti Valley. In fact it is the oldest monastery in India and Himalayas that has been functioning continuously since its inception. This alluring monastery is renowned as 'Ajanta of the Himalayas'.

The walls of the monastery are decorated with fascinating murals and ancient paintings much like Ajanta Caves in Maharashtra.

Built by the revered Buddhist King, Yeshe-O, the Tabo monastery is now a priceless treasure to the Buddhist community. The Tabo Monastery is proud of having preserved the glorious traditions and heritage of Buddhism in form of artistic murals, intricate paintings, elegant stuccos and exquisite frescoes.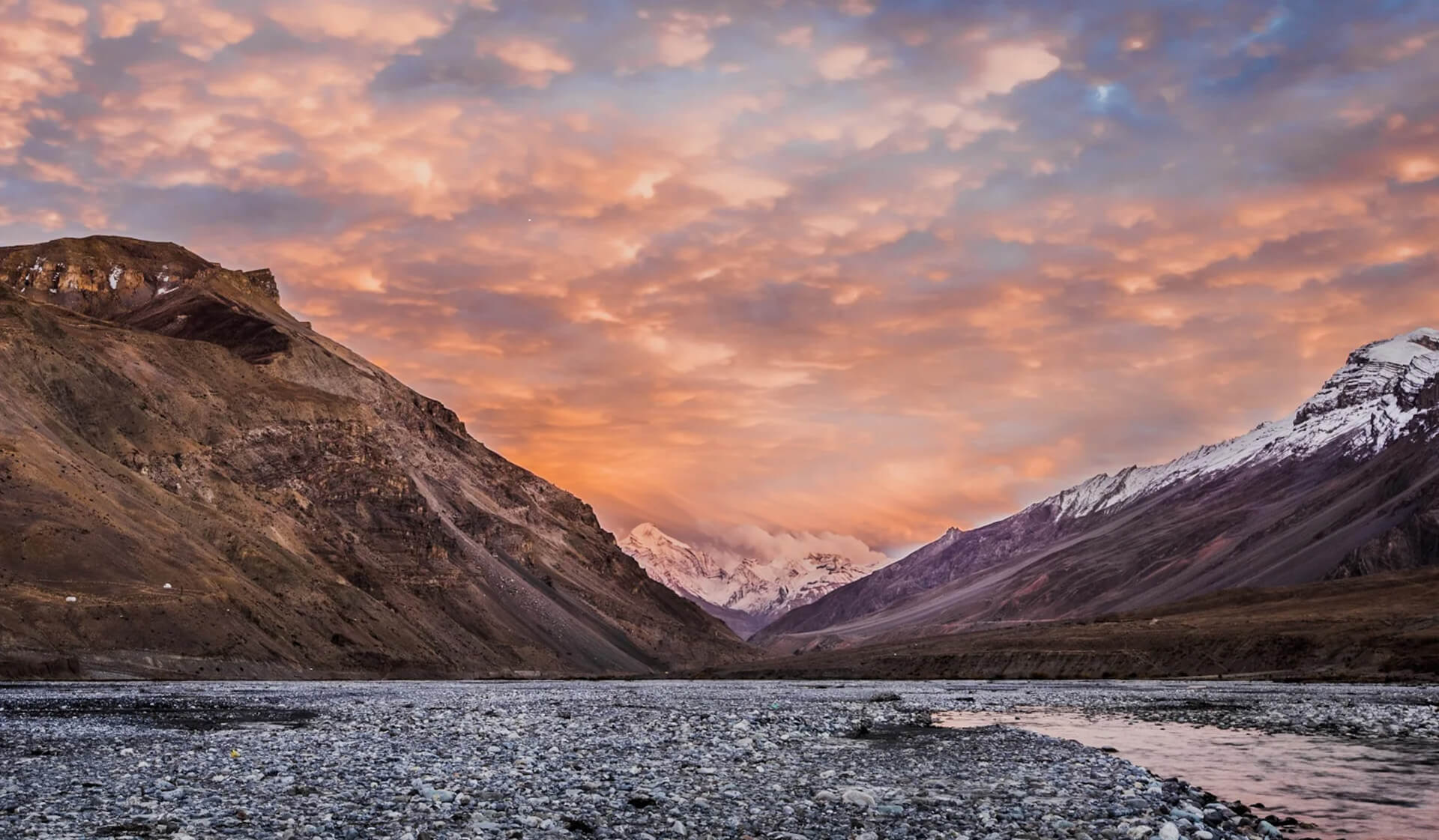 Kaza
Situated at a height of 11,980 ft above sea level, the town of Kaza is the largest in Spiti and is also the district's commercial centre. It's hard to imagine how a rough high-altitude cold desert environment can support civilisation! This one does, and the place is as dreamy as they come.

When you get to Kaza, you will find Old Kaza and New Kaza. Old Kaza is the main town area where you will find the main market, restaurants and places of accommodation. New Kaza is where you will find the administrative buildings.
Local Sightseeing in Kaza
Kaza, by itself, is not a very happening town. But being the centre of the district, it is the most convenient place to make your base while visiting Lahaul-Spiti. Once you are in Kaza, in less than 20 km radius, you will find villages of Komik, Langza, Hikkim, Demul and many more. Visiting these remote places gets so much easier.
For a better understanding of these villages, Visit-devilonwheels.com please click here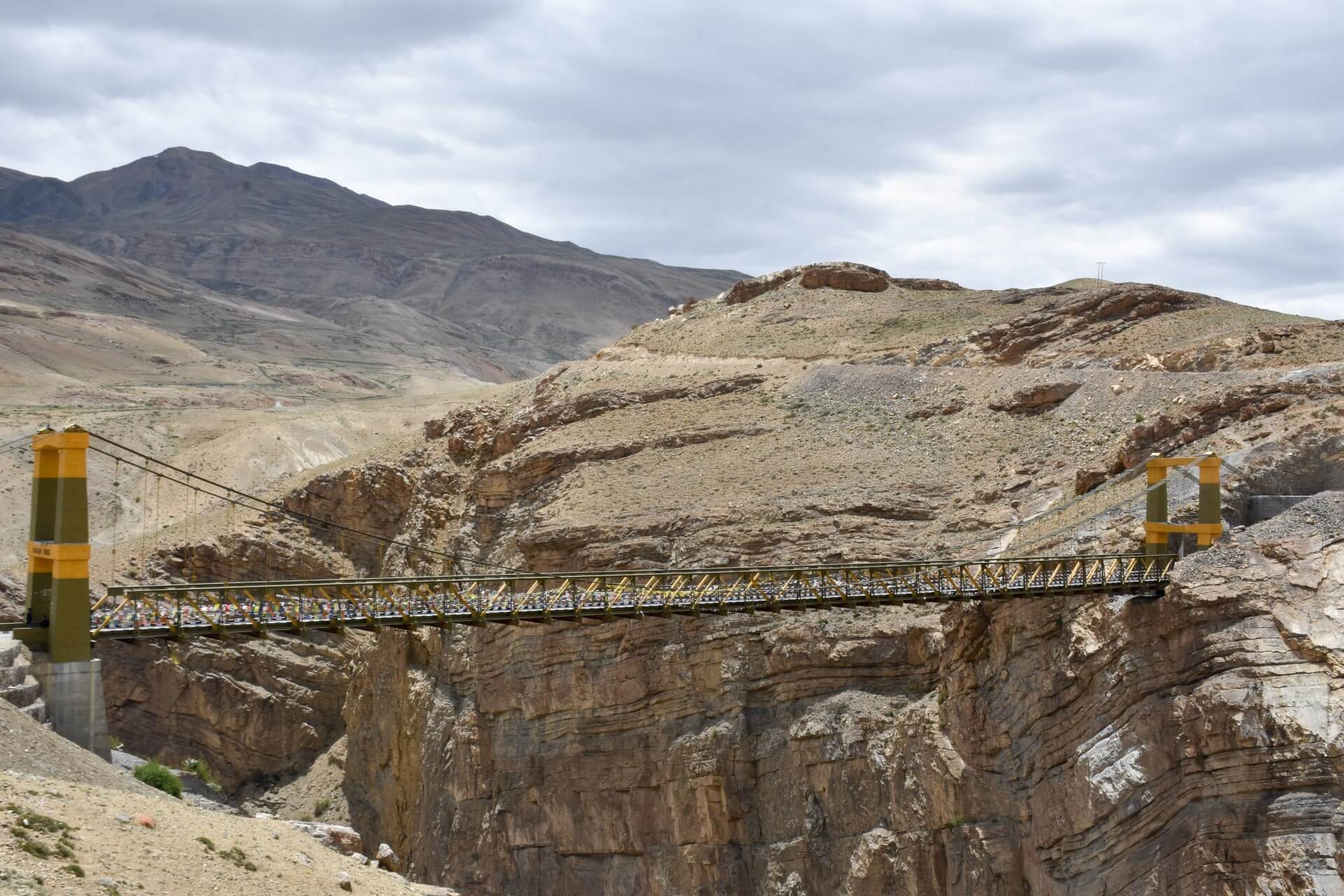 Chicham Bridge
The bridge is at a staggering height of 13596 ft and connects the two villages named Chicham and Kibber. Look down this one and you will find yourself gaping below, at a 1000 ft deep gorge! The gorge below is known by the name of Samba Lamba Nallah; the making of this bridge cuts down the journey from Kibber to Losar by 40 km.

Travellers can also move towards the Chandratal Lake after crossing the bridge, another wonder that lies in the folds of the Himalayas here. You can also explore the surrounding region that comprises of Kaza, Komic, Langza, Dhankar, Tabo and Nako. Those keen to explore more can also head to the Mud village.
Chandra Taal – lake of the Moon
Chandra Taal meaning 'Lake of the Moon' is a deep blue crystal clear water body high up in the valley. It is also known as trekker's paradise, Chandra Taal is reckoned as the most charismatic lake situated in the laps of Himalayas which offers the splendid views of the Spiti region.

The lake is crescent shaped and that's how it got its name. The road to Chandra taal lake takes you through the treacherous trails of Batal. On your way you will also get to climb the glaciers between Kunzum Pass and Rohtang Pass. The lakeside are ideal summer camping grounds bedded tented accommodation can also be availed from June to October. The Lake is very popular among trekkers and campers.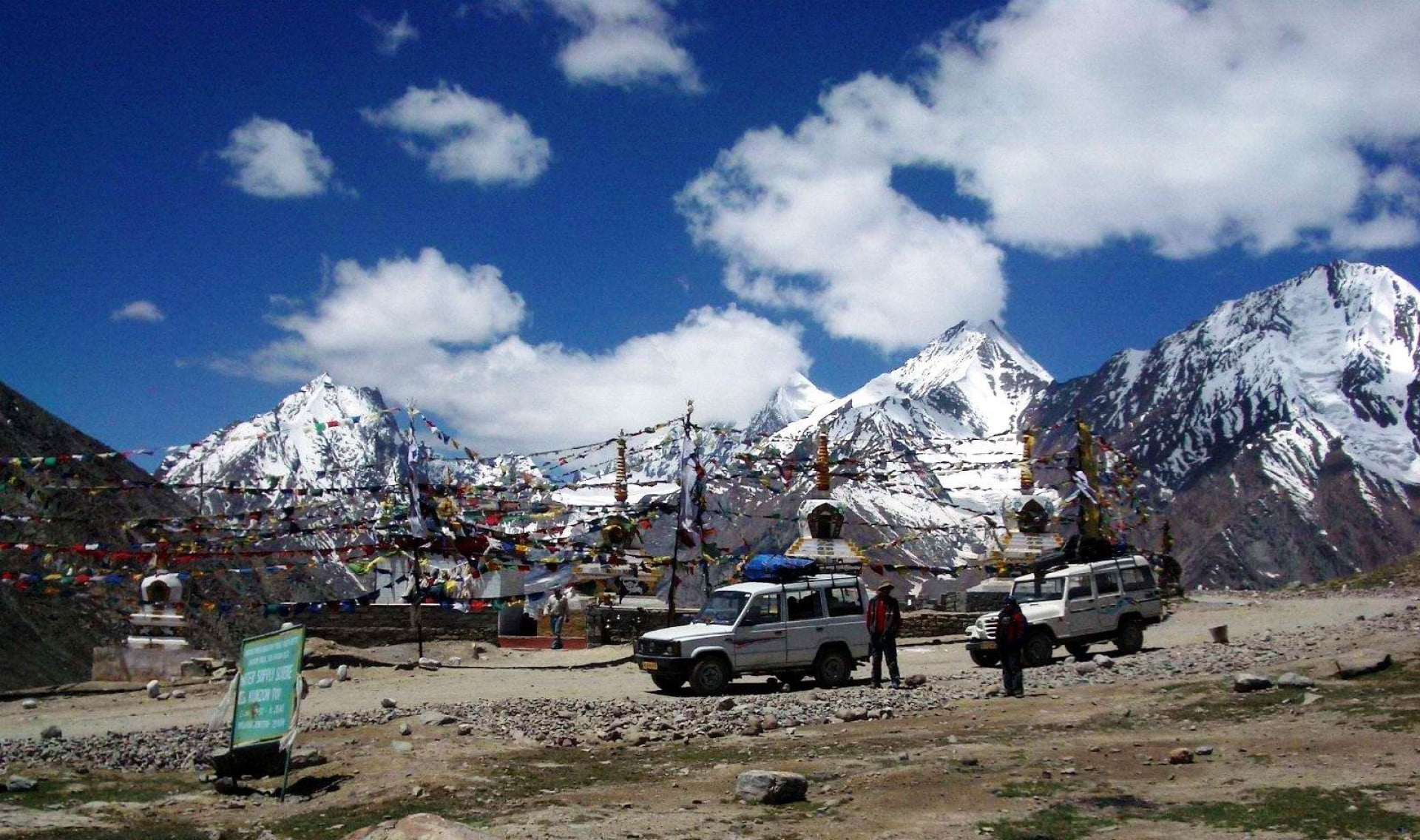 Kunzum Pass- Kunzum la: (Trekker's Paradise)
It is one of the highest motor able mountain passes of India, located at an altitude of 4551 meter above the sea level. It serves as a gateway to they beautiful Spiti Valley Via Kullu and Lahaul.

Kunzum pass offers an incredible 360 Degree view of Bara –Shrigri Glacier, a spectacular view of the Spiti valley. The region offers a jaw dropping vistas of Chandrabhaga range and can be accessed by trekking from Chandrataal Lake. The vibrant Buddhist flags and an age old Devi temple enhance the beauty of this place.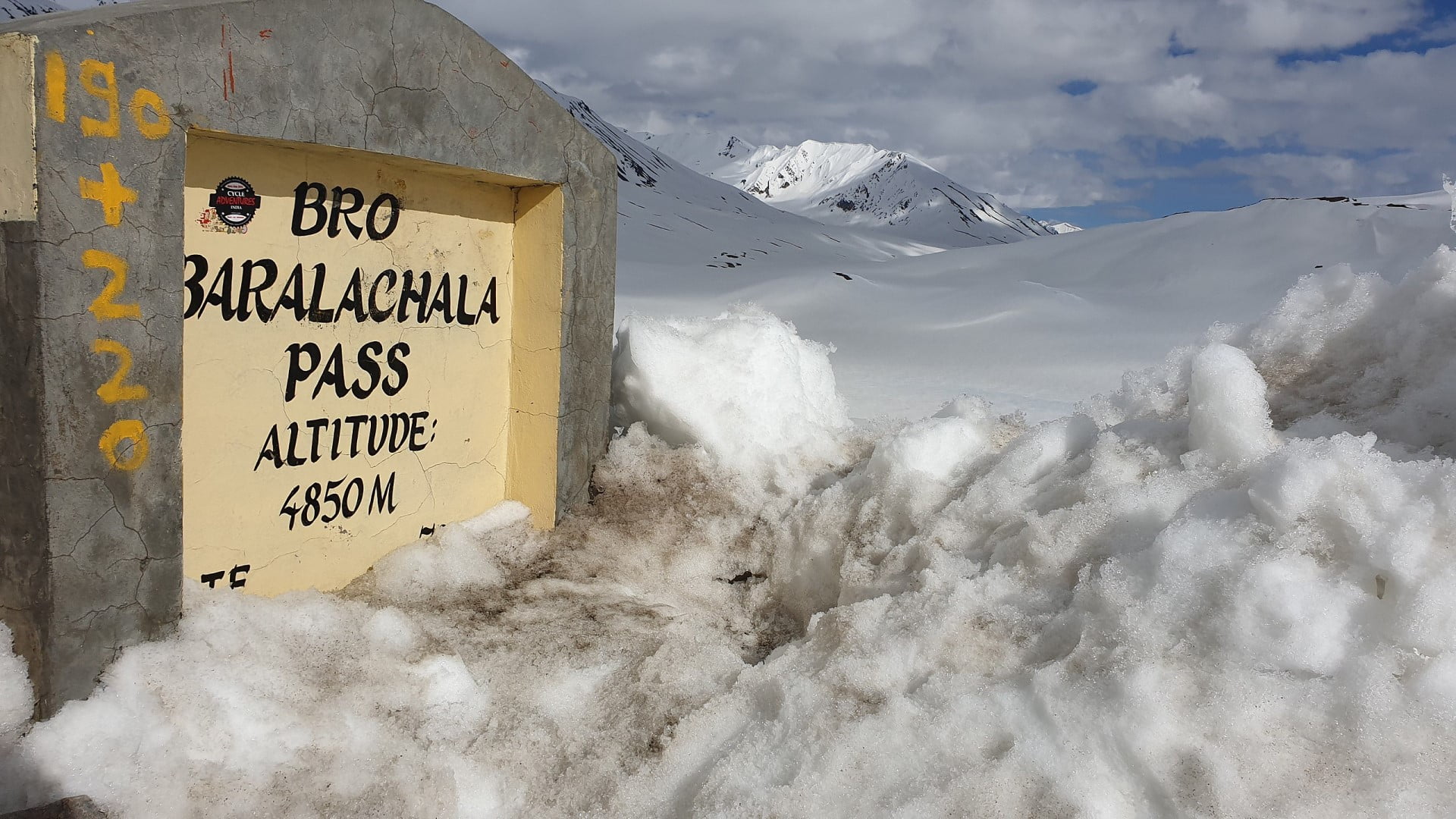 Baralacha Pass –Breathtaking Views:
Baralacha pass means a pass where various roads meet. The pass serves as a connecting point between Lahaul and Ladakh and looks over three valleys which meet at a height over 16,040 ft. Baralacha on Manali- Leh highway in Zanskar is one of the most challenging passes for adventurous travelers. It is here where you can see the intersection of Pir Panjal.
Great Himalayan and Zanskar ranges.
One can also enjoy the trek from Baralacha upp to the Chandrataal which is situated on the banks of the Chandra River in the Spiti Valley. A visit to Baralacha La will teleport you to a different world altogether.

Trekking in Spiti – Spiti is heaven for adventure seekers and trekkers as it offers trek through some of the most unseen, unexplored dream like landscapes, watched over by the majestic sceneries. Some of the most favourite are Pin Parvati route, Kaza to Nako etc.

Time to visit: June to September
Kaza, Spiti Kyelang
India
1017

hPa
43

%
11

%
2

m/s
239

deg
Must Know Before You Visit Spiti Valley
Driving from Manali to Kaza can be quite risky, so avoid the self-drive at all costs. It is recommended to ride in a bus to reach your destination.
There are only one or two ATMs in Kaza, which might run out of money. Therefore, make sure that you carry enough cash.
Chandratal Lake was earlier a popular camping site but camping is now forbidden within 3km of the lake.
The Kunzum Pass is ordinarily open from June to September. During the rest of the year, it is frozen.
The Kunzum Pass has no eateries, so it is recommended to stock up on food supplies before the journey.
It is essential to have many copies of the permit as they may have to be submitted at different checkpoints along the way to Sarchu.
It is to be noted that the camps at Sarchu will be shut down during winters owing to the heavy snowfall.
Photography inside the monasteries and temples is strictly prohibited.
1)How many days are enough for Spiti?
The number of days to reach Spiti Valley via Shimla will take approximately 3 days. On the first day, you can begin from Delhi and reach Shimla as it is 342 km. Then on the second day, you can head to Chitkul which is another 245 km.
2)Do we need permit to visit Spiti Valley?
There is no permit needed for Spiti Valley for Indian Citizens but foreign nationals are required to get a permit. This permit is only limited to the stretch between Kaza and Reckong Peo. What this means is that even foreigners do not need the permit for traveling between Shimla to Reckong Peo, or Kaza to Manali.
3)Do we need oxygen in Spiti?
The oxygen is indeed very thin in Spiti Valley but if you remember to keep yourself hydrated with small sips of water, it should not bother you.
4)Is there altitude sickness in Spiti Valley?
Altitude Sickness in Spiti Valley Where will you suffer from AMS can differ for each individual but It can be assumed that for most of the people, it is the height of 10,000 ft or above that can lead to altitude sickness. Your most chances are at Batal, Chandratal, Kunzum Pass, Kaza, Rohtang Pass, and Nako.
5)Which months are best for Spiti?
The summer months of March-June are considered to be the best to visit Spiti not only due to the pleasant weather but also fewer crowds. For that perfect winter vacation, the months of October-February are the best time to visit Spiti.
6)Which is the coldest month in Spiti?
Spiti in winter season looks like a dreamland, all covered with snow. Spiti weather in December is extremely harsh and temperature can fall to minus 40 degrees Celsius.