India's Official Pink City, there is much more to Rajasthan's capital city than its pink red tinged buildings and historic grandeur. Jaipur is worldwide famous for unique architecture, vastu, astrology, forts, monuments, palaces, arts and craft, culture and not to miss the delicious food. It was founded by Maharaja Sawai Singh II in November 1727.  The city was painted this shade way back in 1876, to welcome Prince Albert Edward- the eldest son of Queen Victoria- to town, and it's remained that color ever since. There is so much to see from cultural show at Chowki Dhani to the world's largest sundial at Jantar Mantar, Amer Fort and the Palace of Winds, Hawa Mahal overlooking Johari Bazaar.
Tourist places in and around Jaipur:
Hawa Mahal: Palace of Breeze
Hawa Mahal, literally the palace of winds was built in 1799 by the poet king Sawai Pratap Singh as a summer retreat for him and his family. It also served as a place where the Ladies from the Royal Families could observe everyday life without being seen themselves. Built from Red and Pink sandstone, it is on the edge of the City Palace, Jaipur. The five storey building is akin to honeycomb with its 953 small windows called Jharokhas and the building is a unique blend of Hindu and Islamic culture.

The Hawa Mahal is dedicated to Lord Krishna and the shape of the building resembles the crown of Krishna. More than a palace, the Hawa Mahal is also a cultural and architectural marvel that reflects a truly harmonious amalgamation of the Hindu Rajput and Islamic Mughal architectural styles. The Rajput style can be seen in the domes canopies and the fluted pillars, while the stone inlay filigree work an dthe arches are the perfect depictions of the Mughal style of architecture.

Each of the floor has a temple in it. Shard Mandir is on the first floor, Ratan Mandir with colorful glass work is on the second floor while Vichitra Mandir, Prakash Mandir and Hawa Mandir is on the third floor. There are no stairs to reach the upper floors of the palace.

The best time to visit Hawa Mahal is in the early morning when the sun enters the rooms from the windows. The Mahal is illuminated with the golden sun lights.

Open time- 9am-4:30 pm
Entrance fees:
Indian Rs 10
Foreigners: Rs 50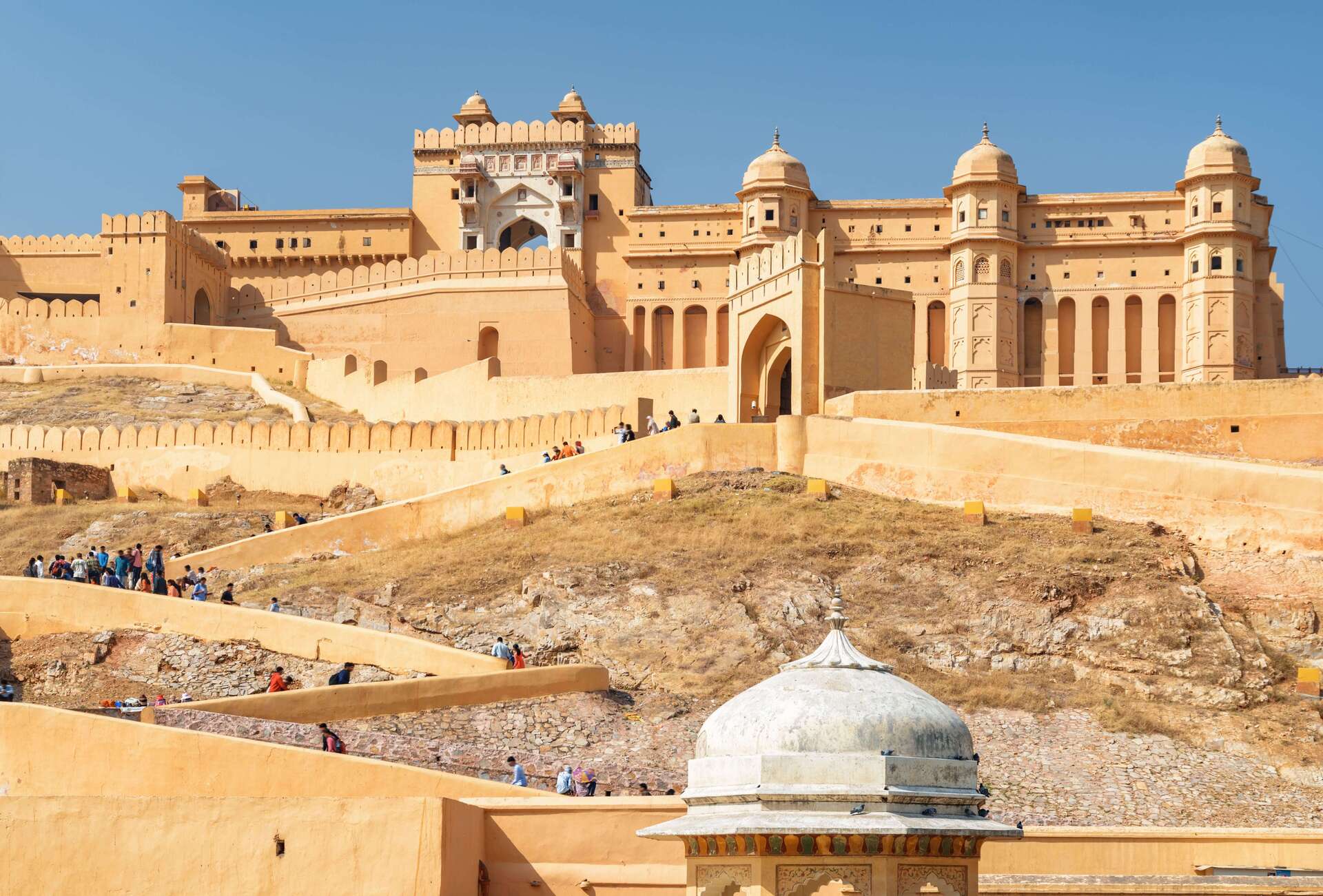 The Glory of Amer Fort: Amer ka Kila
Amer Fort or Amber Fort is the highlight of places to visit in Jaipur. The Magnificent Amer Fort has been built with pale yellow and pink sandstone, and white marble. Amer Fort is perfect place to be and it was declared as a UNSECO World Heritage Site in 2013 under the title of 'Hills Forts of Rajasthan'. It is a great example Rajput architecture. The huge Amer Palace Fort sits atop a small hill, and is located at a distance about 11 km from the main city.
There are a lot of attractions for one to see at the Amer Fort, including the Diwan-e-aam, and the Sheesh Mahal. Amer Fort is also home to some underground tunnels that connect Amer Fort to Jaigarh Fort. Another interesting fact about Amer Fort is that it is located parallel to Jaigarh Fort. A part of these tunnels have been restored, and is open to public also. The Amer Fort is a perfect example of Rajasthani architecture which is a must visit.
Getting an elephant ride up the stairs to the Amer Fort is also popular tourist activity. The Fort sees over 5000 visitors daily and rightfully, the Amer Fort was included in UNESCO World Heritage Site list as part of the 'Hill Forts of Rajasthan' along with five other forts. The essence of Amer Fort is encapsulated by the beautiful light and sound show within the fort, where visitors get to see an astounding spectacle about the history of the fort.
Interesting Facts about Amer Fort:
Amer Fort's Sheesh Mahal Is one of the famous shoot location for Bollywood movies.
Sheesh Mahal's Hall of mirrors could be illuminated with a single candle.
Amer Fort was the residence of Rajput Maharaja's as well as their families.
Elephant ride is a popular attraction at Amer/ Amber Fort.
You can get the glimpse of this heavenly Fort in the floating water of Maota Lake.
It took 100 years to complete this Fort.
Amer Fort got its name from the goddess of fertility.
Light and Sound show
Timings: 6:30 pm English, 7:30 pm Hindi.
Entry fee: Indian Rs 295, Foreign Nationals: Rs 200
Duration: 50 mins.
Elephant ride at Fort Rs 900 for 2 pax.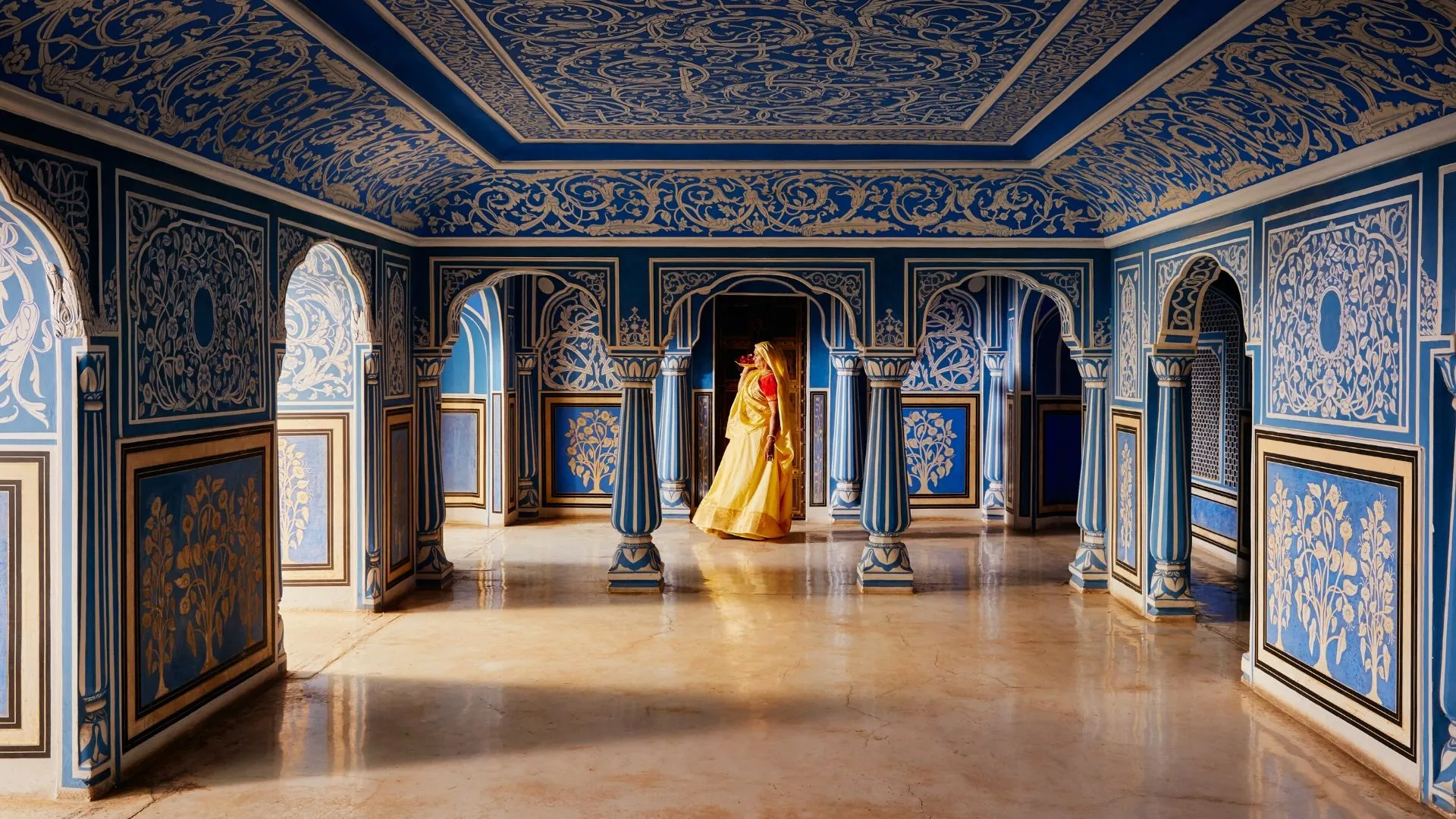 City Palace:
One of the five tourist attractions in Jaipur is City Palace, it is a complex of palaces, gardens, pavilions and temples. City palace is a building that has preserved the history of the city and is an icon of grandeur. The original structure of City Palace was built by Maharaja Jai Singh II who started with the outer wall. The architectural style of the City Palace is a beautiful blend of Rajput, Eurpean and Mughal Style. Built out of red and pink sandstone, this palace has vast courtyards surrounded by several arched smaller palaces. These small palaces have been converted into museums for the tourist.

City gate has three gates leading to it, Tripolia Gate, Virendra Pol and Udia Pol. The main palace also has four smaller gates in the courtyard named Pritam Niwas Chowk which leads to the Chandra Mahal.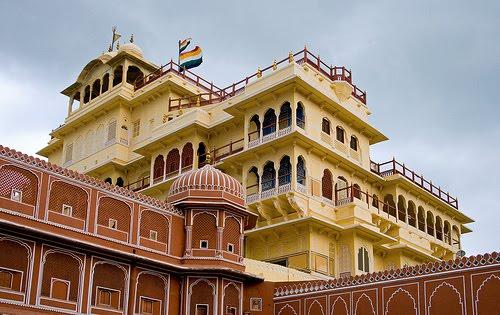 Chandra Mahal
A seven storey building, this Mahal has many floors with different names, Mukut Mandir, Chabi Niwas, Shri Niwas, Ranga Mandir, Pitam Niwas and Sukh Niwas. Chandra Mahal is initially designed to be the residence for the descendants of the rulers.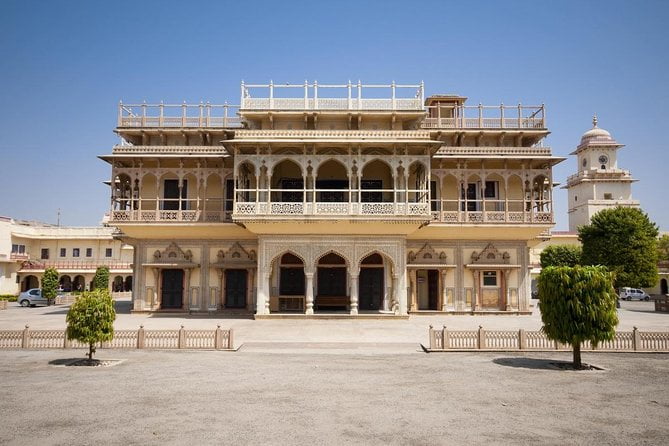 Mubarak Mahal
This Mahal flaunts the European architecture combined with Islamic and Rajput styles as well. Developed as a museum, it now exhibits textiles, garments, embroidered clothes, Kashmiri Pashminas, silk sarees and sanganeri shawls as well.
Pritam Niwas chowk
The inner compartment with four different gates, it is a courtyard which has four themes that displays four seasons and all the four gates contain pattern of peacocks.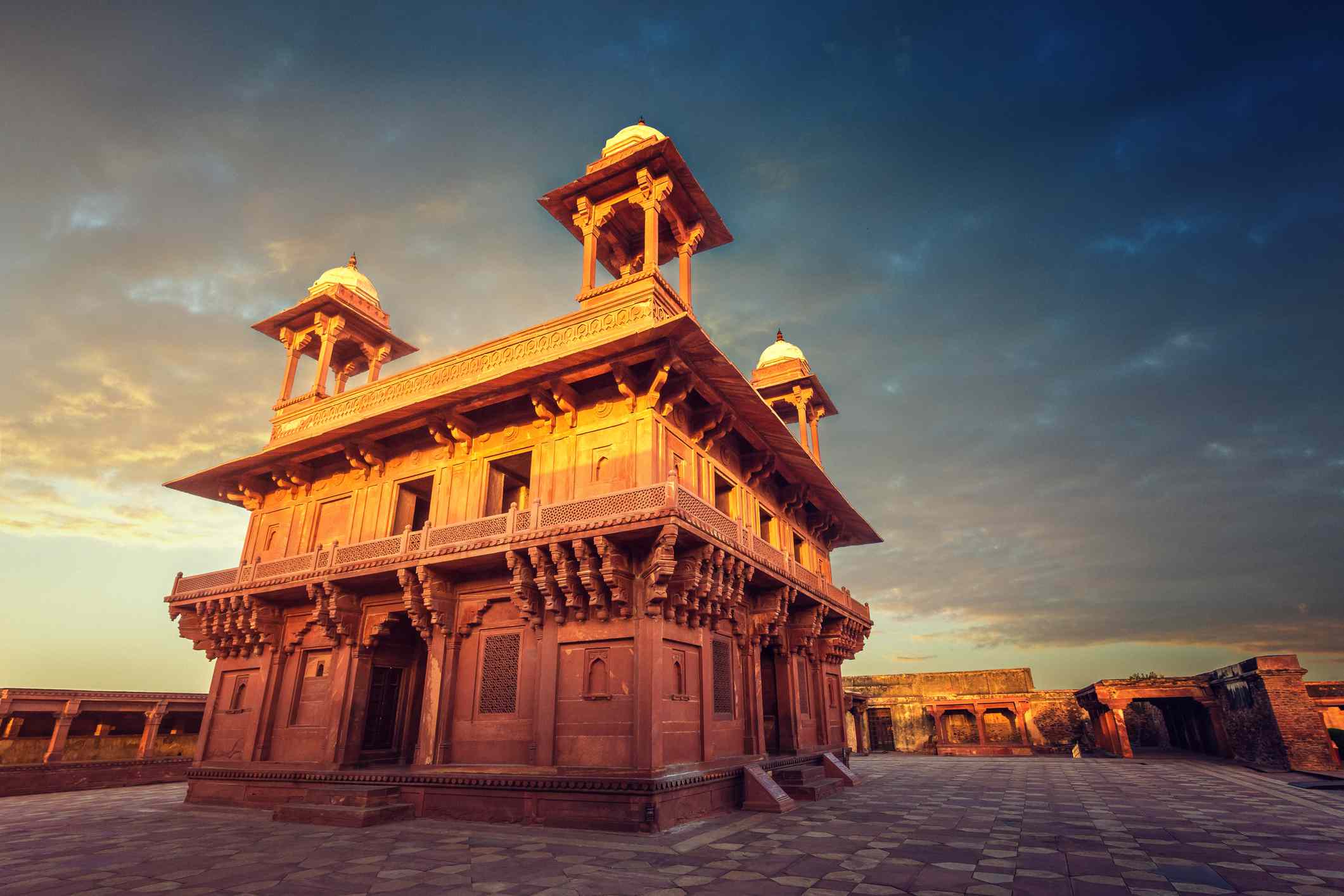 Diwan-I-Aam
Referred as sabha Niwas as hall for the public: it has bright red and gold ceilings furnished with warm colors. The hall is actually an art gallery with miniature Persians, Mughals and Rajasthani paintings, rugs, ancient texts, carpets and shawls. The hall also has a Golden throne, Takth-e-Rawal carrying the palanquin bearers and the elephants made of marble rock.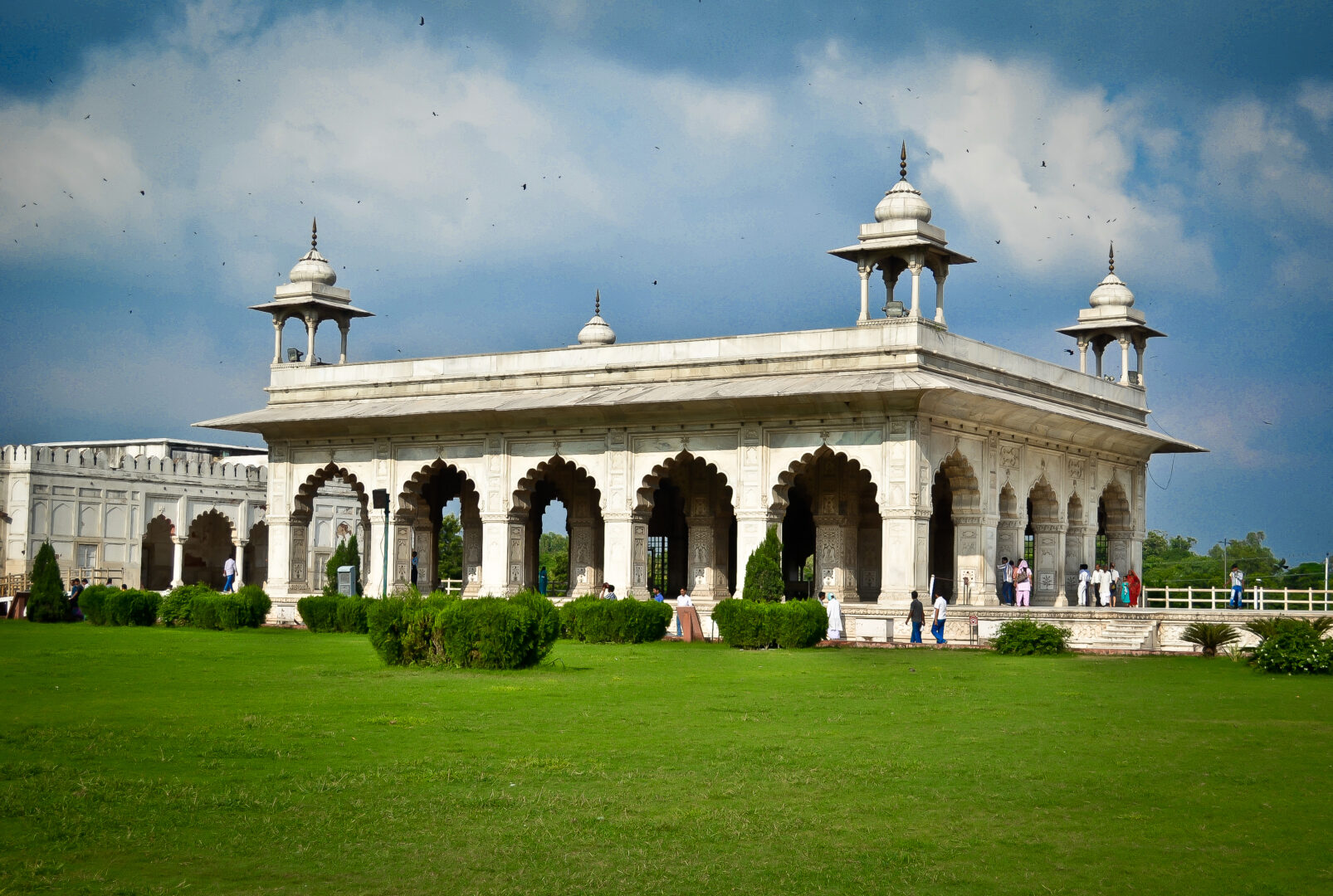 Diwan-I- Khas
A chamber full or marble, this is a private hall for the Maharajas It contains two silver vessels of 1.6m height, that can hold tpo 4000 litres. These vessels are known to made from 14000 silver coins without any slightest soldering and therefore, both of them weigh around 340 kgs.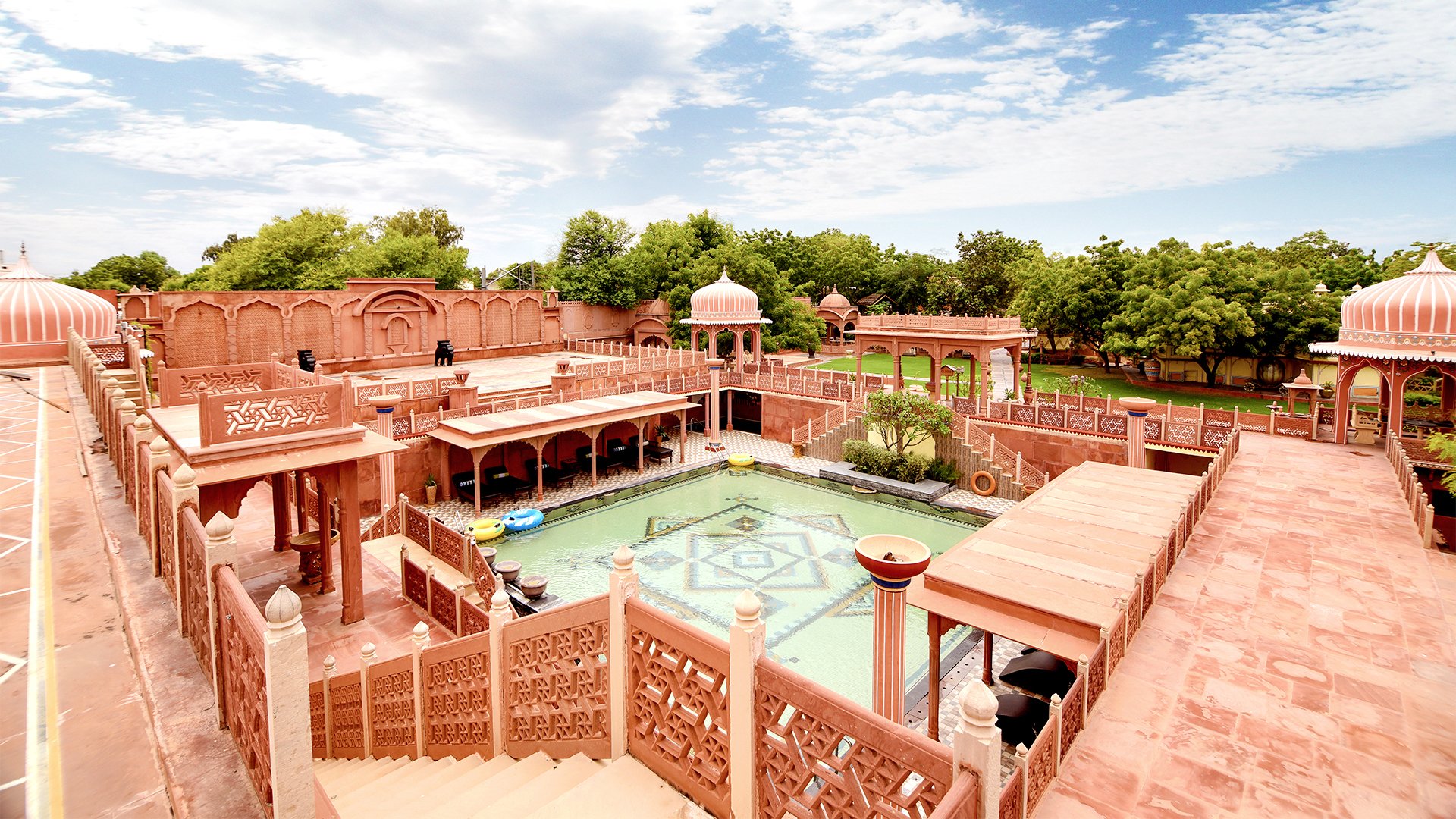 Chokhi Dhani:
As the name "Chokhi Dhani" means "Chokhi" means- beautiful and "Dhani" means- a small hamlet. Thus, Chokhi Dhani Offers an experience of a complete village. This resort village is a celebration of just that. It is a well known tourist destination in Jaipur that gives full experience of Rajasthani culture, food, traditions and heritage to the tourist. The entire resort theme is based on village setting with many cultural activities.
Chowki Dhani village is situated on Ajmer- Jaipur highway, 20 km from the main city of Jaipur. The village is located away from the hustle bustle of the city and imparts peace and serenity to the travelers. The resort was started in 1989 and is spread across 10 acres of land, with unique architecture that reflects the grandeur of Rajasthani culture and tradition. The architecture is heavily influenced by the Indo-Saracenic style.
Reasons to visit Chokhi Dhani:
Relive the Haldighati Battle- ( Reliving the glorious Rajput Past)
The battle fought between the Mewars of Kumbhalgarh, led by Maharana Pratap and the Mughals, led by Maharaja Man Singh I od Amer is enacted by the artist here at Chokhi Dhani. The battle where Rajputs emerged to be victorious takes the tourist on nostalgic and emotional ride.
Enjoy the Traditional Folk dance-
Chokhi Dhani is famous for music and dance performances by the locals. Some popular dance performed here are Kalbeliya, Ghoomar and the classic Chari dance. Out of all the dances, the most exquisite dance performance is Chari dance, where the performers dance while balancing pots on their heads.
Puppet Show and Magic show-
Chokhi Dhani conducts puppet shpw and magic show in its vincinity. This usually held in the evenings before the fair begins. If you have never seen the puppet show before, you will be amazed by the artistry and storytelling at Chokhi Dhani.
There is an astrologer who sits with his cards spread out at one place, there are bioscope films that showcases the history of Rajasthan.
Rath Khana-
The Rath Khana displays the chariots used by the Rajput Royalty since ancient times. All chariots used throughout Rajasthan across the Royal houses counts for a unique experience for the visitors.
Shopping at Chokhi Dhani-
Chokhi Dhani is set up to promote everything local. It also promotes local artisans by displaying their arts and art crafts such as handicrafts, home décor pieces, accessories and paintings.
Food at Chokhi Dhani-
Chokhi Dhani is the place for authentic and local Rajasthani Food. The offerings at Chokhi Dhani include typical Rajasthani food with multi cuisines platter.
Timings: 5pm to 11 pm
Entry fees: Rs 750-1200 per person
Best time to visit- Mid October to March
Location: Jaipur
India
Population: 2711758
1009

hPa
18

%
0

%
4

m/s
340

deg
Must Know Before You Visit Jaipur
Jaipur is home to one of the most helping and friendly people. Most of the people will help you out with directions, suggestions while you are here.
Jaipur being a tourist destination and tourism being source of revenue for many, they respect people coming to visit the city.
A great place to shop local goods like mojri(a type of shoe/sandal), rajai(comforter), handicraft etc.
You can take heritage walks in the old city on your own or guided by experts.
A lot of places to explore nearby and within Jaipur like Amer fort, Jal Mahal, Hawa Mahal, City Palace, Jantar Mantar, Nahargarh, Jaigarh, etc.
Take note of emergency contact numbers, although people are friendly and nice, its always nice to take services from established shops related to tourism.
Street food is good, but not everywhere its hygienic, so care while selection is advised.
1)What is the best time to visit Jaipur?
The best time to visit Jaipur is between the months of October to March, with occasional showers bathing the city's streets accompanied with snug weather
2)Which is the quickest way to reach Jaipur?
The fastest way to reach Jaipur is via the Indira Gandhi International airport in Delhi with an airtime of an hour. Once you reach the Jaipur airport at Sanganer, you could hire a taxi or cab to your desired destination.
3)What are some of the must visit places in Jaipur?
When in Jaipur, do not miss out on Hawa Mahal, City Palace, and Amer Fort.
4)What type of climate can be expected here?
Jaipur's climate ranges from post monsoon charm, the scorching heat of the sun to cooler and pleasant winters.
5)Where exactly is Jaipur located?
Jaipur is in the state of Rajasthan, towards the north-western part of India. Rajasthan shares proximity withGujarat, Madhya Pradesh, Uttar Pradesh, Punjab, and Haryana.
6)What is the shopping scene in Jaipur?
You will plenty of souvenirs to take back home with you from the bustling bazaars of Jaipur. Be it handmade items or old artefacts.
7)Is Jaipur safe?
Yes, the city is rather safe. However, we suggest you to be careful while meandering along the busy and bustling bazaars of Jaipur.
8)How does one greet the locals?
Khamma Ghani Sa is usually said to wish Good Morning or hello in Jaipur. Whereas goodbye is Padhaaro Sa.