Manali - Tours and Excursions
Immerse your senses with an Indian vacation package
A paradise for mountain lovers, Manali is a high altitude Himalayan holiday destination from years. It has an reputation of backpacking and honeymoon destination with other endless options for adventure, pilgrimage, food, history, and sightseeing to staycations.
Manali - Tours and Excursions
Kulu Manali is on the foot hills of the Himalayas and the scenic beauty of the snowcapped peaks makes it a perfect tourist destination. It is also known for backpacking and center and honeymoon destination. Set on the Beas River, it is a gateway for the skiing in Solang Valley and trekking in Parvati Valley. It is also home to other adventure activities like Rafting, paragliding, zipline, zorbing etc.
Manali surrounded by the high mountains, is a paradise for tourist, the spectacular views, charming streams, the cozy cottages, the apple fields and the lingering scent of pines and freshness the place has something for everyone. The place is classic blend of peace and tranquility which makes it heaven for nature lovers and adventure enthusiastic who wants to escape the normal life. The valley is referred to as the "Valley of the Gods".
The glacial water of River Beas allows adventure sports like river rafting and river crossing. Manali is also the real starting point f an ancient trade route which crosses the Rohtang and Baralacha passes and runs via Lahaul and Ladakh to Jammu and Kashmir. There is an interesting legend about Manali which goes to say that Manu, the author of 'Manu Samhita 'after the great deluge first stepped on the earth from the celestial boat at a place in this land. The particular spot where he established his abode was the present Manali which is regarded as changed name of 'Manu-Alaya' the abode of Manu. The temple dedicated to Manu still exists in the Manali village.
Tourist Attractions in Manali:
The most places to visit in the town are Hidimba Temple, Manali Gompa, Manu Temple, Solang valley, Vashisht village, Rohtang pass, Mall Road etc.
Hidimba Temple
Hidimba Temple is also known as the Dungri Temple, this 15th century temple is located inside a pine forest and is dedicated to Hadimba, a local deity, who is also a significant character in the epic Mahabharata. The temple also hosts naïve festivals to commemorate her powers. Built on a strong stone foundation, the temple shikhar rises as high as the deodar trees surrounding it in a four tier pagoda style wood and stone structure. The temple attracts devotees and architecture lovers from all around the world.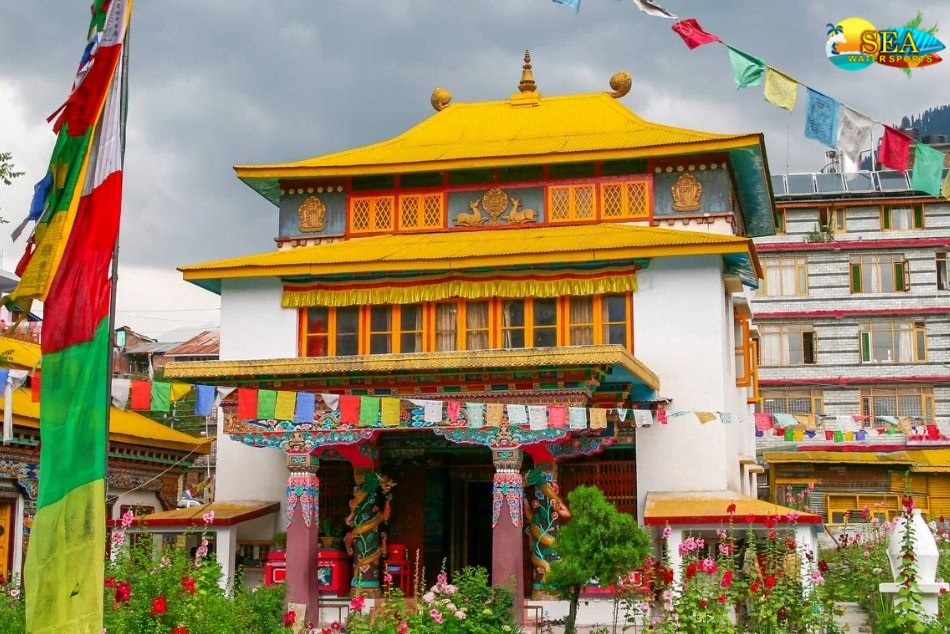 Manali Gompa
Close to the Mall, this Buddhist monastery greets you with its bright colors'. A large Buddha statue at the entrance, freshly painted facades, mowed lawns and colorful murals on the wall depicting Buddha's life hand out a deeply spiritual experience. The local Buddhist monasteries are some of the most sought after places to visit and reflect the Tibetan influence on the local culture. Of all the Manali Gompa is the most iconic and popular.
Vashisht Temple
This tourist spot is known for its religious and natural significance. It is a sacred village that can be easily reached by a paved path from Manali market. This beautiful village is famous for its sulphurous hot springs and Vashisht temple built next to the springs. The water from these springs believed to have great healing powers, which can cure many skin diseases and other infection. The village has various temples dedicated to sage Vashisht and Lord Ram. This place has a refreshing atmosphere that allows one to indulge in exotic baths while seeking blessings from the presiding deity of the temple.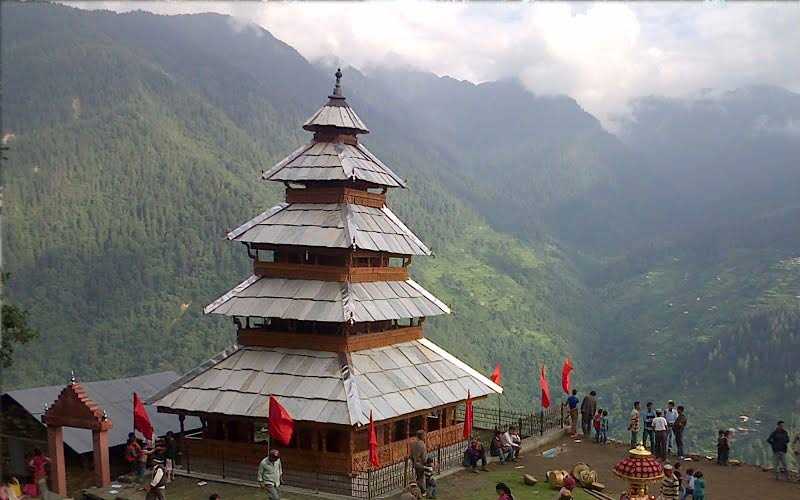 Manu Temple
Situated deep in the heart of Old Manali, the temple provides the view of the untouched beauty of nature which is inhabited by people from thousands of year. It is ironical that even the settlement of humans from thousands of year does not deteriorate the beauty of nature. The temple is devoted to Rishi Manu, a sage who codified the Hindu laws in the book Manusmriti. A temple of Manu is rare in the country and Manali deserves its very name from Manu Alya, sanctified in the temple.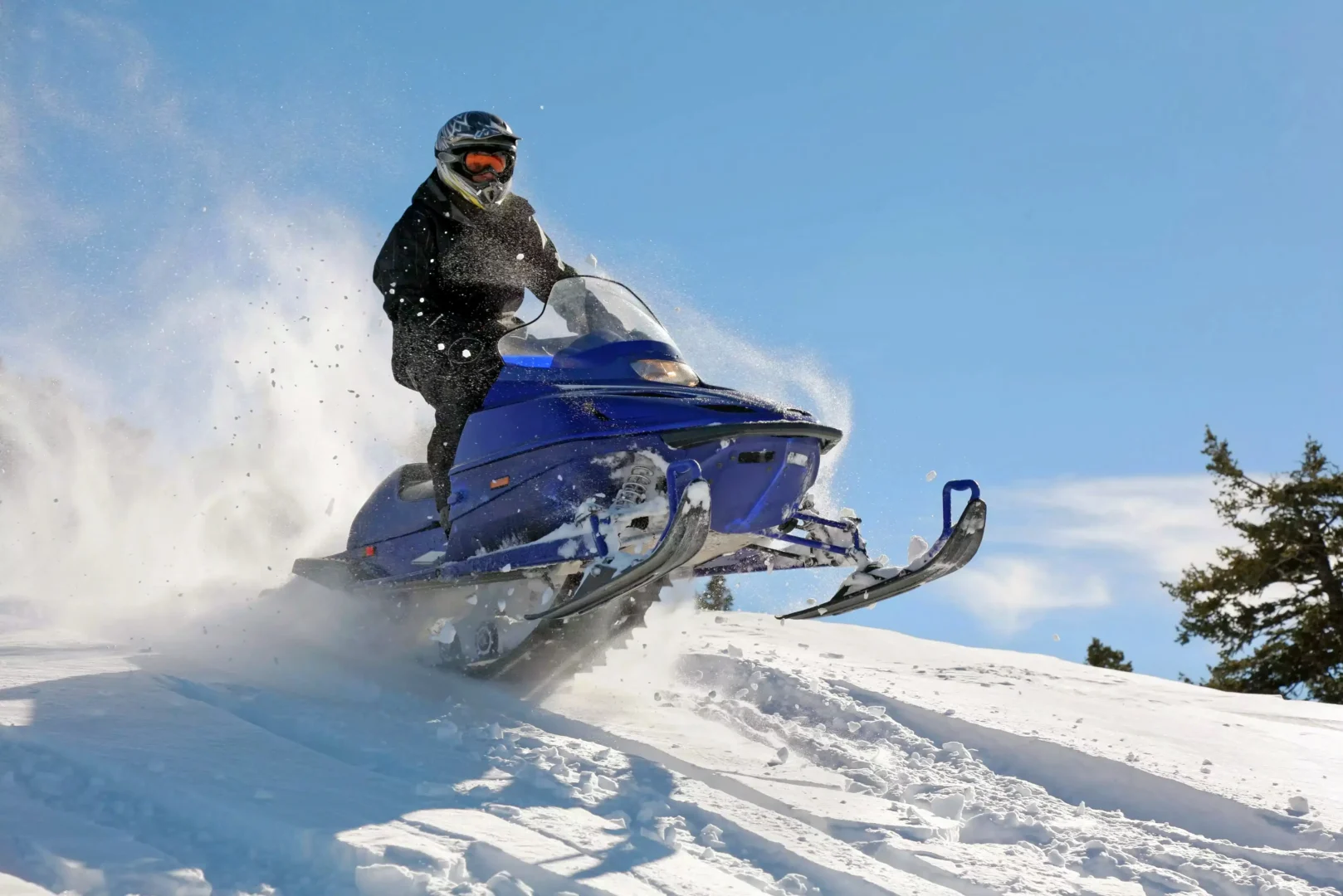 Solang Valley ( Snow Valley)
Be it summers or winters, Solang Valley is one of the most gorgeous and adventurous places to visit in Manali. The valley derives its name from the combination of the words Solang (nearby village) and Nallah (water stream). It is a side valley at the top of Kullu valley in Himachal Pradesh, 13 km from Manali on the way to Rohtang Pass. Besides admiring its unmissable picturesque landscapes people also visit Solang valley to enjoy various summer and winter sports. A variety of adventure sporting activities that include quad bike rides, zorbing, paragliding, ropeway, horse riding, rock climbing, ballooning, camping can be indulged in the Solang Valley. In the winters the slopes gets packed with snow and it becomes a winter sports arena for skiing where state and national level Ski championship are regularly held. Solang also serves as a base camp for mountaineering expeditions to Anjani Mahadev, Hanuman and Patalsu peak.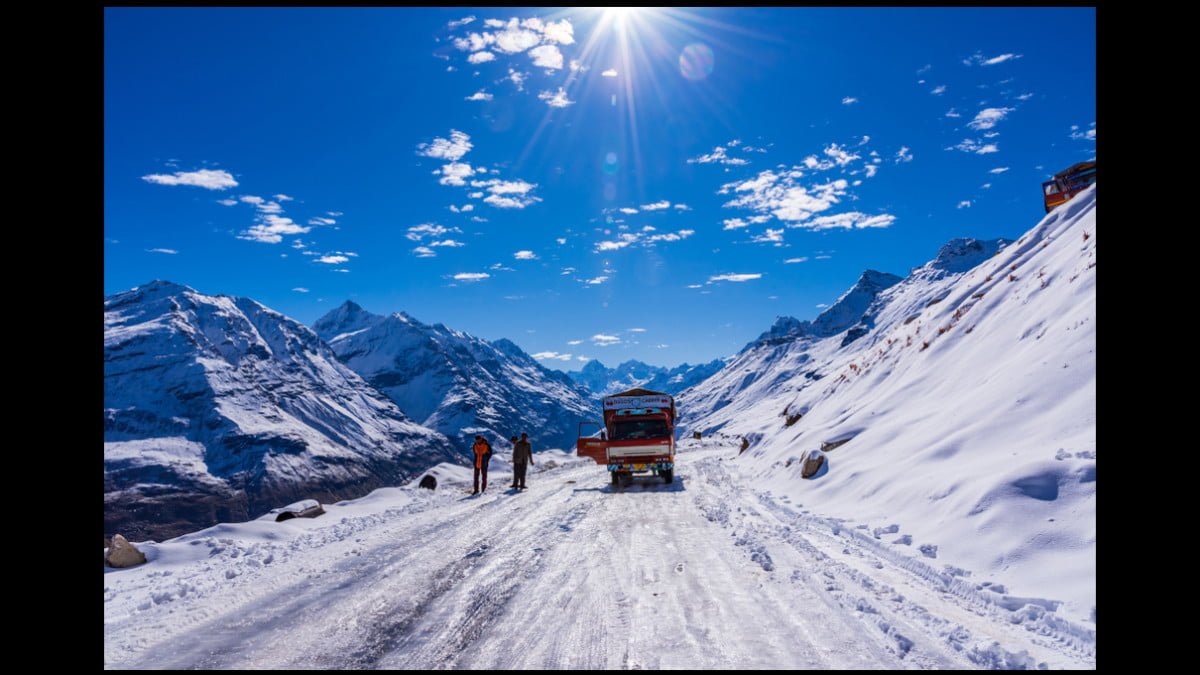 Rohtang Pass
Rohtang Pass is a high mountain pass on eastern end of Pir Panjal range of the Himalayas. It connects Kullu Vallye with Spiti Vally of Himachal Pradesh. Rohtang Pass is one of the most spectacular natural delight in India. It is a personal favourite of all nature lovers, artist and photographers the pass offers access to Lahual and Spiti in summers. The ideal time to visit Rohtang Pass is from April to October and the permission to travel on this highway is given by the Indian Army once they clear the road. Rohtang pass is the same road, which connects to Leh Ladakh from Manali. More then 25 lakh tourist visit this spot every year, however the routes are mostly covered with snow in winters and open for 6 months for travelers. Some people also visit the famous Beas Kund, the source of the Beas River and the Holy site for Hindus as the same is easily accessible from the Rohtang Pass. It is believed that the sage Vyas used to meditate at this site. There is no place to stay at the Rohtang Pass unless you pitch your own tents and set up camps near the road side. There are two types of permit one is up to Rohtang Pass and other is beyond Roihtang Pass. Rohtang pass is all about soaking in nature's might and beauty. Apart form trekking across the rustic terrain there are plenty of adventure activities that one can enjoy here. Some of them are Heliskiing, Paragliding, snowboarding, mountain biking etc.
Mall Road
Mall road is the main road in the Manali near the bus stand. The place is not only famed for its beauty but also for shopping- Mall road. This place is famous for street shopping one can buy from captivating items like shawls, woolen clothes, wooden items, and artificial jewelry, Tibetan items etc. After the shopping spree you can sit donw at one of the safes to enjoy eating scrumptious treats.
Old Manali
Old Manali is a land of the by-gone era Manali used to be quiet pilgrimage town before the travelers found it. The peacefulness of old Manali is perhaps exceptional, there are fewer crowd in Old Manali, thus making it easier for you to enjoy your walk. There are beautiful orchards, with trees laden down with fruits. The riverside cafes in old Manali are the main highlight of this area. Linger in cafes to mingle with fellow travelers while listening to somber live music and trying cuisines from all over the world. Some of the best cafes around are Lazy monk, Café 1947, Drifters Café, Café Amigos, Honey hut are some of them. The Cafes in Old Manali are much more quaint and offer a better idea of what the local dishes taste like, instead of generic so call authentic food that is available in the restaurant of Manali Town. These coffee shops offer musical nights, with live bands and various artist performing solo. It is must a visit when in Manali.
Bhrigu Lake
A gift of the Himalayas, Bhrigu Lake is located at the base of Bhrigu peak. It is one of the best trekking trails of Manali. The lake is surrounded by snow clad peaks on all sides like an attempt to protect it from the world. An ideal trekking opportunity for beginners and seasoned trekkers as well as families, the Bhrigu Lake is full of nature's wonders. The trek offers stunning views of the alpine meadows and grassland and you will catch glimpse of the seven sister peaks. Maharishi Bhrigu , one of the seven great sages of Indian history used to meditate here. This is why the lake is rendered sacred and even when the temperature goes down the lake never freezes completely. Locals also believe that all the God and Goddesses from heaven come down to take a dip in this holy lake.
1010

hPa
71

%
33

%
6

m/s
44

deg
Must Know Before You Visit Manali
What Manali has to offer
Manali's surrounding scenery is its main asset. Set amidst the Himalayas and River Beas, the adjacent countryside is truly breathtaking. But go knowing that Manali is a nothing more than a base to explore the surrounding areas.
What Manali doesn't…
Apart from using Manali as a base to explore its surroundings, the city itself does not have a lot to offer if you are the type of traveller who enjoys culture, shopping, good cafes and restaurants, and so on. The temples in Manali can all be seen in half a day and after that you'll be hard pressed to find activities in town to occupy yourself. Old Manali is overrun with hippies who come mainly to smoke hash (which you'll find growing all over Manali). If this isn't your idea of fun, you won't find much that is redeeming about it.

Manali proper isn't much better; the main thoroughfare – the Mall – is a pedestrianised shopping street that has shops and restaurants of all sorts. But again, the quality of what is on offer is mediocre at best. Don't imagine a lively Indian bazaar where you'll find gorgeous local handicrafts and clothing – this is not what the Mall offers. It's more a hodgepodge of dollar store trinkets.

What to expect
In short, Manali caters to two types of tourists: stoners and adventure seekers. If you fall into one of these two categories, you might love Manali. If you don't, go knowing that Manali itself is not the reason to visit – the surrounding countryside is the only thing worth seeing, and Manali is only a base to explore that.
1)What is special about Manali?
A gift of the Himalayas to the world, Manali is a beautiful township nestled in the picturesque Beas River valley. It is a rustic enclave known for its cool climate and snow-capped mountains, offering respite to tourists escaping scorching heat of the plains.
2)Is Manali safe for Women?
Manali has a low crime rate and therefore considered relatively safe. However, petty crimes like pickpocketing or bag snatching are common. It's advisable to always be cautious of your surroundings and avoid visiting isolated areas. Do not flash valuables like cameras and jewellery in the open. Try not to invite unwanted attention.
3)Is Manali is better than Shimla?
Manali may be a better alternative for you if you love adventure sports and natural beauty, whereas Shimla may be a better choice if you are interested in colonial history and cultural attractions. Nonetheless, all cities are equally worthwhile to visit and provide tourists with a distinctive experience.
4)What type of culture do manali have?
Manali has a unique diversity in its culture and rituals. The fairs and festivals celebrated in Manali are vibrant and carry a great economic and religious importance in the lives of the locals. They portray the innate traditionalism and highlight the rich cultural legacy of the bygone era. The cultural traits and ritualistic patterns have come down from the ancient times and become an integral part of the modern civilization as well. The rapid industrialisation has not affected their cultural traits. Manali is famous for its enchanting and melodious folk songs and indigenous folk dances. The place is also blessed with the rich traditional art and craft forms, from the ancient era. The cultural aspects of Manali display the varied yet so enriched socio-cultural lifestyles of the locale.
5)Which months are best for Manali?
Here is the best time to visit Manali for a fantastic vacation. March to June is the best time to visit Manali. Check to know more about these seasons. March to June-Summer is the best season to visit Manali as it offers a respite from the scorching summer heat. It is also an ideal time for outdoor activities such as hiking, trekking, camping, whitewater rafting, etc. The temperature ranges from 10 Degree Celsius and 25 Degree Celsius making the town ideal for sightseeing. It is at this time; the lovely Israeli cafes along the river are open for business. If you want to visit Rohtang Pass, these are also the best months to visit Manali as after that the road to Rohtang Pass gets closed. June to August-During this season, Manali experiences heavy rainfall. It is a perfect time to book your favourite hotel at a much cheaper price. If you are looking for a pleasant staycation in the clean atmosphere and chilly winds, then Manali is your place to be. September to February-Manali experiences the winter season at this time. The temperature falls below -5 Degree Celsius. At high peaks, it even reaches -45 Degree Celsius. It is the best time to enjoy snowfall and enchanting views of the snow-capped Himalayas. It is also the best season to enjoy winter activities such as skiing. If you are visiting Manali in the winter season, it is advised to keep heavy woolen clothing and lip balms to protect yourselves from the extreme cold.
6)Which airport is near to Manali?
Bhuntar Airport is the nearby airport. Nearest airport is Kullu Bhuntar airport and it is 50 kms from Manali. Bhunter airport is the nearby manali.