Kasol is fondly known as Mini Israel of India due to large number of Israeli tourist. The village is known for cannabis plantation and spectacular views hills teeming with dense Himalayan vegetation. Kasol is a very popular destination for backpacker's and travelers from around the globe. Due to large number of Israeli found in this village of Parvati Valley its often mistaken as Mini Israel. (Thanks largely to sign boards in Hebrew as well). Kasol is located in Parvati Valley, on the banks of the Parvati River, between Manikaran and Bhuntar, at the height of 1640 meters.
Kasol is a small Himalayan Village with lot of activities like trekking, shopping and walking along the Parvati River. It is fast emerging as a hub for backpackers, trekkers and nature lovers. Famous for its trails, Kasol is popular for several treks to Kheerganga, Yanker Pass, Sar Pass and Pin Parbati Pass. To get the feel of the local culture in this region, a trip to the village of Malana. Located a few kilometers from Kasol, Malana is tiny hamlet inhabited by people living in self- imposed isolation. The village has plenty of scenic sights, and is often called 'Little Greece'.
Facts about Kasol :
Kasol was originally a bus stop.
Kasol is largely populated by Israeli, so local food habit and culture has an Israeli touch.
The village is an open space by the banks of Parvati River.
The village serves as an entry point to Parvati Valley.
Kasol also serves as a base camp to the villages of Grahan and Rasol.
Kasol also serves as a base camp to the villages of Grahan and Rasol.
Kasol has only 1 ATM.
Best time to Visit Kasol :
The ideal time is to visit between the months of October to June when the temperature ranges between 15 to 22 degrees Celsius.
Places in and around Kasol:
Tosh :
Popular for its cannabis plantations, the tranquil village of Tosh is just another example of unparalleled natural beauty that Himachal Pradesh holds within its bounds. Located at the far end of the Parvati Valley, Tosh is untouched by the modernization and fast paced life. People visiting Tosh prefer staying in the guest house or hotels rooms enjoying their time and do not make a fuss about it. This makes Tosh a great place for quiet vacation amidst nature.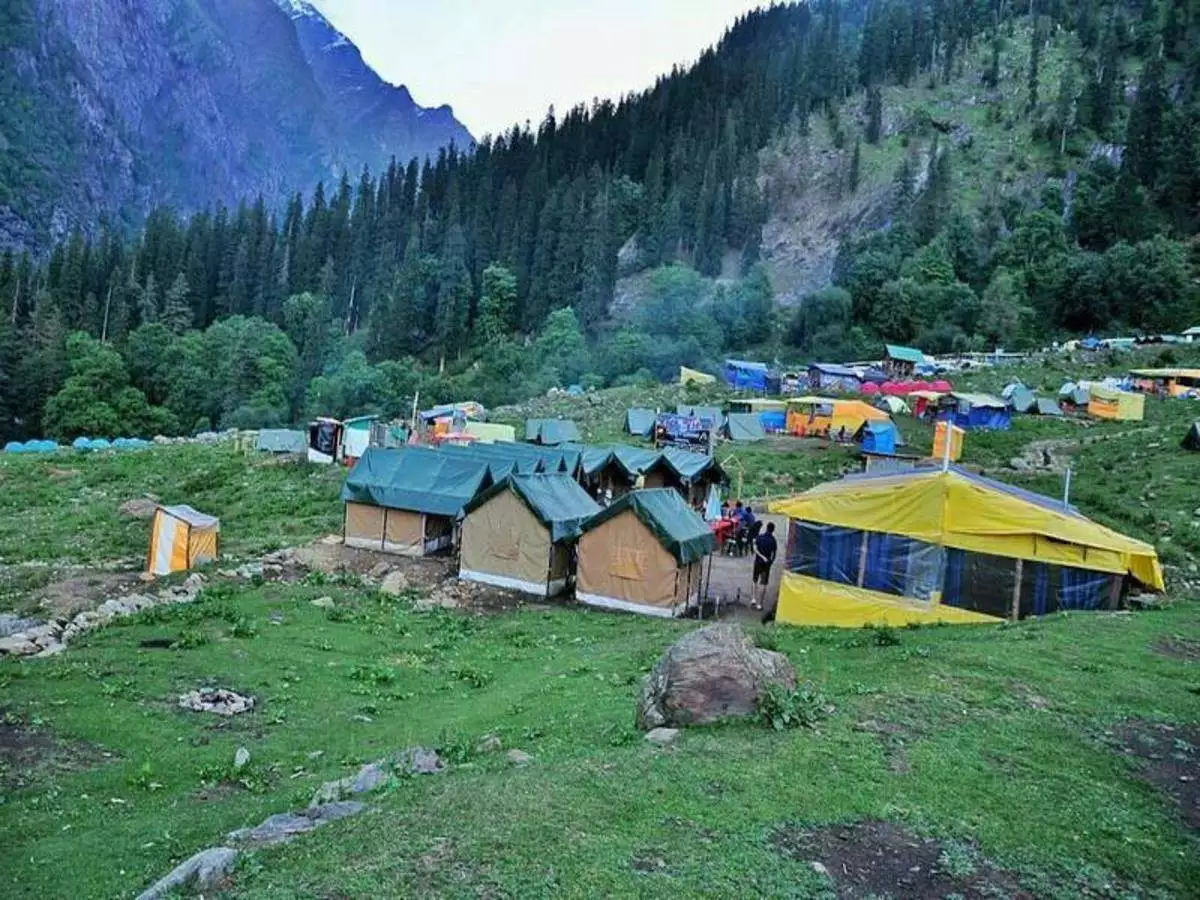 Kheerganga:
Kheerganga got its name after the white milky Parvati river running through the Parvati Valley. It is believed that Lord Shiva had meditated here for 10,000 years, making it a holy place. Kheerganga is one of the finest treks in Himachal Pradesh. It is situated at the height of 2950 meters above the sea level in the Parvati Valley, and it takes you through some beautiful routes. Kheerganga's hot water springs and outstanding views make it absolutely worth the trekking effort. Tosh is located at Barsheni which is the base to start the Kheerganga trek. The temperature in Kheerganga changes with the season! During winters, the weather can be bitterly cold with snow blanketing the landscape.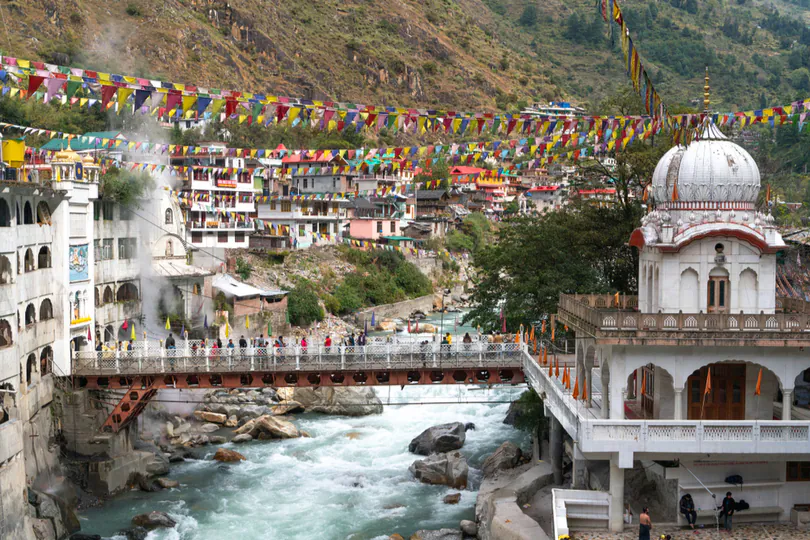 Manikaran Sahib:
Manikaran is located in the Parvati Valley on river Parvati, north east of Bhuantar in the Kullu Distrtict of Himachal Pradesh. It is at an altitude of 1760 m and is located 4 km from Kasol. Manikaran is famous for Gurudawara sahib with the hot springs situated along. It is a great place to relax, bathe in the natural hot springs. This place has Great significance and main beauty of it is Lord Shiva's big Idol and temples of Mahadev and Rama. The best time to visit the town would be in summers.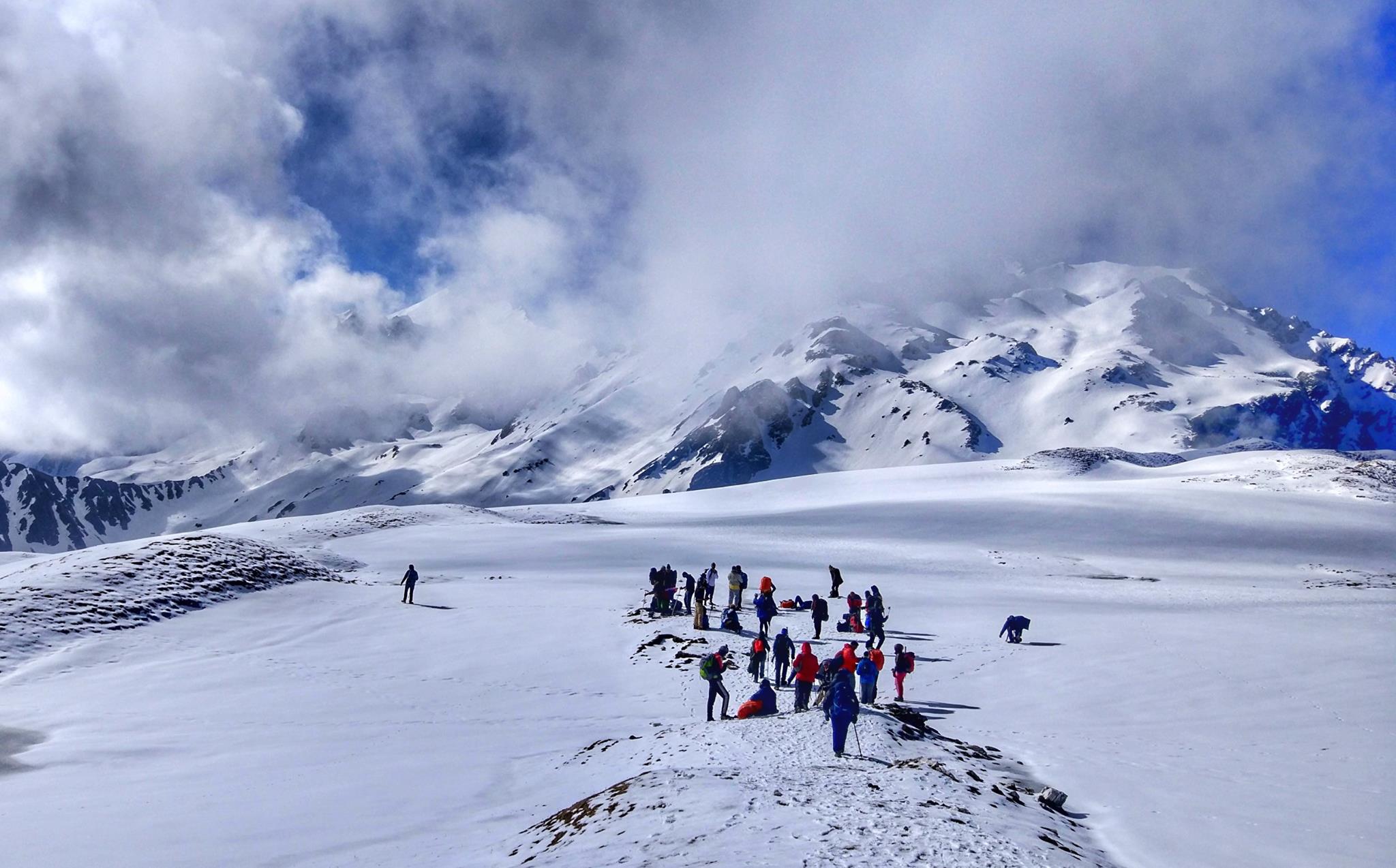 Sar Pass Trek:
This trek starts from Kasol and is composed of 6 villages Grahan, Padri, Ratapani, Nagaru, Biskeri and Bhandhak Thatch. The path leads to lush green forest, with beautiful waterfalls on the way. The vegetation is dense and various birds can be spotted or heard along the way. It is a perfect trek for beginners. Its apt for those who want to experience all kinds of terrain. Forest, meadows, quaint villages or snow covered mountains this trail offers a gamut of experience to trekkers.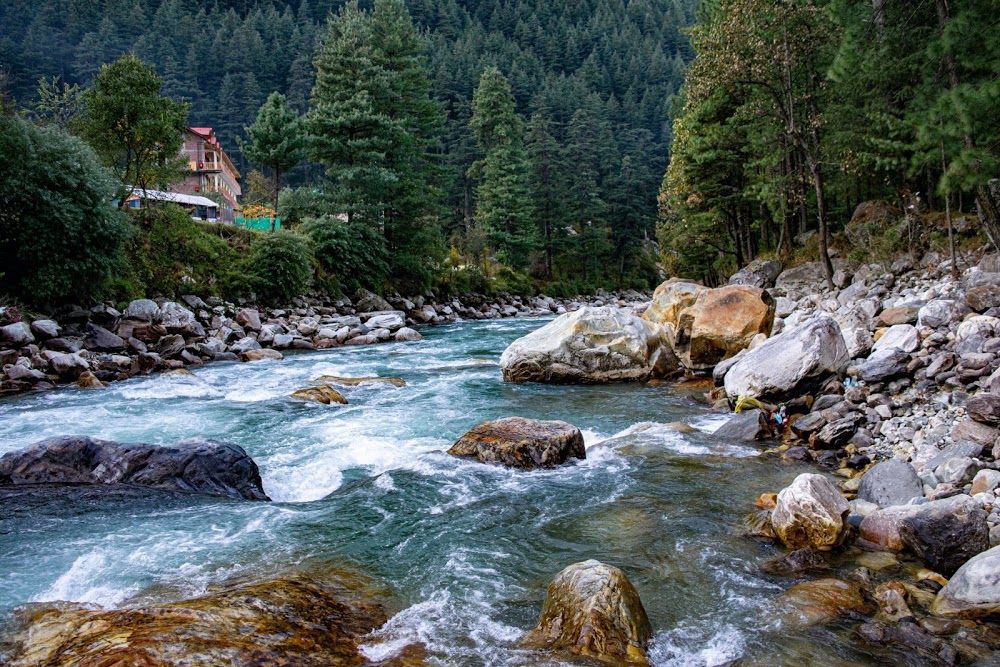 Chalal Vilage:
Located at an altitude of 5366 feet, the village is paradise to solo travelers who come here in search of peace.The village is admired for its Israeli culture. For the adventure lovers this is the ideal place to come to, as you get the chance to trek till here with mesmerizing views making the whole adventure worthwhile. The trail to Chalal is well marked and the village has traditional wooden houses. It is known for cannabis cultivation, cattle farming and seasonal Rave parties.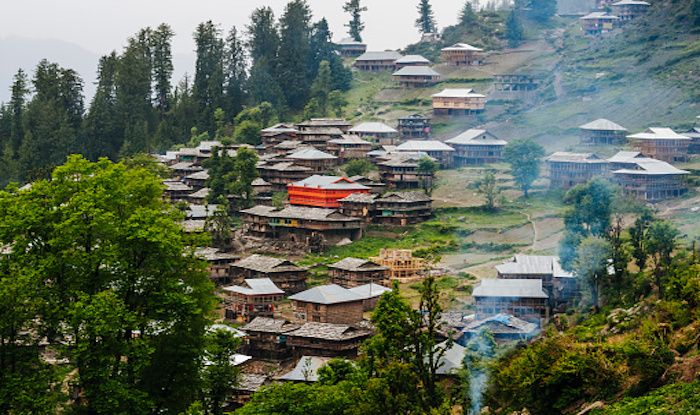 Malana Village: A land of unexplored Mysteries.
The village is quite ancient and is completely pristine located on the side of Parvati Valley. The solitary village and its isolation and its isolation is what one desires from vacation so a visit here is worth it. Malana has its own religious beliefs apart from their undying faith in Shiva. The Malanese people consider themselves as superior to the rest. Their sacred temple, Jamdani, is located in the heart of the village. One can visit the place, but not allowed to enter or touch the walls of this sacred place, as they consider outsiders as untouchables.The St John Church in The wilderness Dharamsala may not have the grandeur of the Churches in Goa or Karnataka but it has strange timeless beauty that merges harmoniously with its setting in the middle of beautiful Dhauladhar ranges.
Location: Kasol
India
Population: 2000
1016

hPa
24

%
1

%
1

m/s
246

deg
Must Know Before You Visit Kasol
Ensure etiquette while visiting monasteries, as photography and visitation are restricted in some areas.
If you're trekking, carry your own water during the trek. You might not get the opportunity to refill your water stock on the way.
How much does a package cost for Dharamsala?
The packages for Dharamsala start at INR 9000 which can be further customized based on number of people, days, hotel category, vehicle type and customizations.
What is famous about Dharamsala?
A great place for meditation and learning about Buddhism and Tibetan culture. Great view of Dhauladhar ranges. Pleasant weather all around the year.
Who should visit Dharamsala?
For religious people, people in search of meditation and peace. Also, for the avid trekkers as Dharamsala opens the way for a number of treks.
What is the best time to visit Dharamsala?
The best time to visit Dharamshala between mid-February to mid-July (spring and summer) when the weather is pleasant with a temperature ranging between 21-34 degree Celcius. Winters here are frigid with occasional snowfalls; however, it makes the valley look much more beautiful. Monsoons (late July - Early September) can be avoided as it might hamper your travel plans, but this place does not receive very heavy rainfall unlike other parts of Himachal and Uttarakhand.
What is the local food in Dharamsala?
One can find a lot of restaurants and cafes here which derve decent food. Being dominated by the Tibetan culture one will mostly find Tibetan cuisine being served. Do try the momos, thukpas and other Tibetan dishes. Another speciality of this place is honey ginger lemon tea which is a very refreshing drink. A lot of cafes also serve English breakfast with Pancakes, Omlettes and Sandwiches. One of the best establishments here are the Green Restaurant and the Herbal Tea Shop. There are a few pubs here as well which serve imported alcohol along with food with music in the background. Momos are a specialty here. Different types of momos locally called as Tingmo, Tibetan type samosa known to be Baklebs and a meal of soup and noodles Thukpas are most common.
What are the top hotels in Dharamsala?
There are 335 in Dharamsala which can be booked through Holidify. The most popular hotels in Dharamsala are Hotel Royal Taj, Triund Camps Riverside Resort, Camp Indrunag, Delightful 1BHK Cottage in Dharamshala, Serene 1BHK Home in Dharamshala.
What are the things to do in Dharamsala?
The top things to do in Dharamsala are Dharamshala Cricket Stadium, Library of Tibetan Works and Archives, St. John in the Wilderness Church, Dharamshala International Film Festival 2019, War Memorial, Gyuto Monastery.
What are the places near Dharamsala?
The top places near to Dharamsala are Mcleodganj which is 4 km from Dharamsala, Dalhousie which is located 47 km from Dharamsala, Khajjiar which is located 43 km from Dharamsala, Manali which is located 81 km from Dharamsala, Shimla which is located 147 km from Dharamsala
Is it ideal for trekking and paragliding in December in Dharamshala?
yes you can, weather can be challenging sometimes, however make up your mind to tolerate extreme cold during treks. Sometime its quite sunny in December month except for some rainy snowy days. If it snows don't go on any tek as it can be extremely dangerous. See a local guide before you go on any trek. Bring some good warm clothes with you. The wind is generally cold in winters, so ur glider will not take much lift.On sunny days the paragliding can be done but it will be a short flight. The best time for such activity is Mar to June and Sec to Oct months.